Missouri Chef Heads To Columbia, South Carolina For $100,000 Competition
Share:
Posted Apr 26, 2022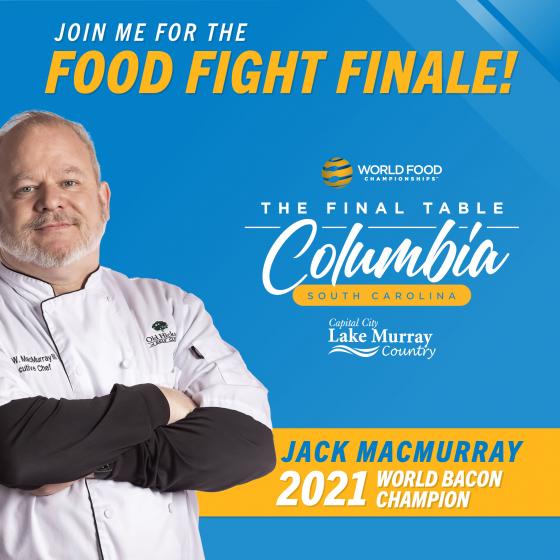 Competition Chef Jack MacMurray entered the World Food Championships' (WFC) 9th Annual Main Event at its newest location of Fair Park in Dallas, Texas, looking to land a respectable Top Ten finish in the bacon category. Turns out he left Dallas with the most coveted prize of all — $7,500 in winnings and the title of 2021 World Bacon Champion, which gives her a seat at WFC's $100,000 Final Table Challenge this April.
The Missouri chef took on a highly skilled field of competitors. During the multi-day competition, the Bacon Competitors faced a three-competition challenge that allowed them to display their creativity and cooking abilities.
For the first dish, a "structured" challenge, competitors created "Hors D'oeuvres" while also including Beeler's Pork Hickory Smoked Bacon.. Each team was encouraged to put their own spin on what Hors D'oeuvres meant to them. MacMurray served up a Blissful Bacon Bites.
The next challenge, the "signature" dish round, gave competitors the opportunity to showcase their talents with no limits. With 90 minutes on the clock, they had free rein to craft any recipe, which for MacMurray was his "Bacon Bliss"
In the Final Round, MacMurray's goal was to best the other nine competitors who advanced to WFC's Top Ten round, which involved an "Infusion" challenge. In this third and final round, each competitor was tasked with creating any dish they wished to make. The challenge, however, required them to HERSHEY'S Semi-Sweet Chocolate Chips. MacMurray recreated his Signature dish "Bacon Bliss," which is a Smoked Bacon & Hershey's Chocolate wrapped Pork Belly over Smoked Bacon Jam served over a Smoked Bacon & Hershey's Chocolate Pancake. topped with Szechuan Glaze with Hershey's Chocolate with Smoked Bacon Bits.
Johnson's dessert-themed bacon dish won him the World Burger Championship title.
For his next challenge, MacMurray will go up against the other nine category champions at WFC's Final Table event in South Carolina's Lake Murray Country set for April 30 - May 1, featuring three rounds of challenges inspired by local cuisine experts.
To learn more about "Final Table: Columbia," visit https://finaltable.worldfoodchampionships.com/.
Stay up-to-date on all culinary competition news, by following the World Food Championships on Twitter (@WorldFoodChamp), Facebook and Instagram (@WorldFoodChampionships).
About World Food Championships:
The World Food Championships (WFC) is the highest stakes food competition in the world. This multi-day, live event culinary competition showcases some of the world's best cooks who compete for food, fame and fortune in 10 categories (Bacon, Barbecue, Burger, Dessert, Rice/Noodles, Sandwich, Seafood, Soup, Steak and Vegetarian). In 2021, more than 300 culinary teams from 5 countries and 40 American states competed in WFC's Main Event. The Champions of each category will now face their next challenge called The Final Table, which will be held at South Carolina's Lake Murray Country in late April (Click here to request an invitation to the event). While contestants have to earn their way into WFC by winning a Golden Ticket at a previous competition, potential judges are welcome to take WFC's online certification course that explains the E.A.T. methodology. Certified judges then request and receive available seats at the next scheduled WFC event. Click here to learn more about getting certified.
« Back to News