Natural Tableware Returns for WFC's Tenth Anniversary
Share:
Posted Apr 22, 2022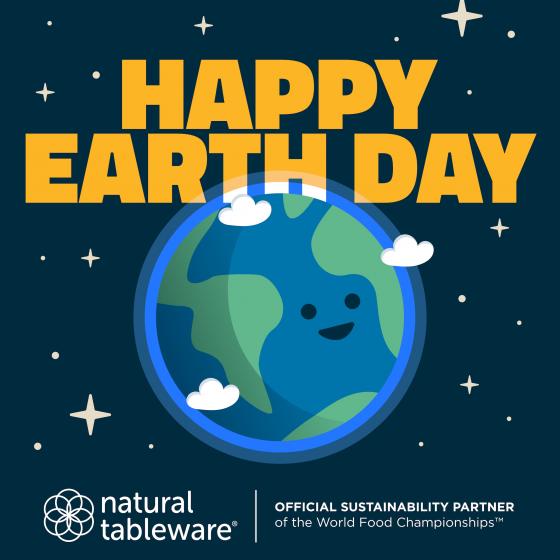 In celebration of Earth Day, the World Food Championships (WFC) welcomes back Natural Tableware as the Official Sustanability Partner.
Natural Tableware, makers of high-design, biodegradable, compostable plates, cutlery and straws, was the first in the market to develop high-end green alternatives for plastic disposables. As the Official Sustainability Partner of WFC's 10th Anniversary Event in Dallas this November, Natural Tableware will provide single-use tableware for the entire slate of the event's tasting experiences.
"We are delighted to partner with Natural Tableware for our Tenth Anniversary," said Mike McCloud, President and CEO of WFC. "Their products beautifully complement our competitors' culinary creations. Even more importantly, it helps us reduce our event's waste footprint, which is very important to us."
Not only will Natural Tableware be used throughout WFC's ticketed experiences, but the homecooks, chefs and pro teams who will be vying for the World Food Champion title will also have the opportunity to pre-order plating to use for their award-winning dishes. Pre-ordering will occur directly through Natural Tableware and then will be available for pick up onsite at WFC. Details will be released on August 1st, through WFC's competitor packets.
We call it the WFC Family for a reason," said Angela Castelli, President of Natural Tableware North America. "We all appreciate each other's efforts, so it's humbling to be able to showcase amazing Food Sport creations on our stylish, sturdy, earth-friendly plates. By having plateware already at the event, we give chefs one less thing to lug to the arena, or buy, or distract them as they prepare for battle. We are so proud to be WFC's sustainability partner and anything that can reduce single-use plastics is a win for everybody on the planet—essentially, the 'world' in World Food Championships."
Additionally, Natural Tableware will serve as the preferred vendor for disposable plating used by Vendors and Exhibitors of the event, which will assist in further reducing the use of plastic and non sustainable materials. Order forms for competitor and vendor/exhibitor pre-orders will be released prior to the event through direct communication from the WFC team.
Stay tuned for more partnership announcements about the upcoming 10th Anniversary Event to be held in November in Dallas, Tex.
In the meantime, s
tay up-to-date on all things Food Sport, follow the World Food Championships on
Twitter
(@WorldFoodChamp),
Facebook
and
Instagram
(@WorldFoodChampionships).
« Back to News