El Yucateco is Bringing the Heat to Food Sport in 2022
Share:
Posted Mar 23, 2022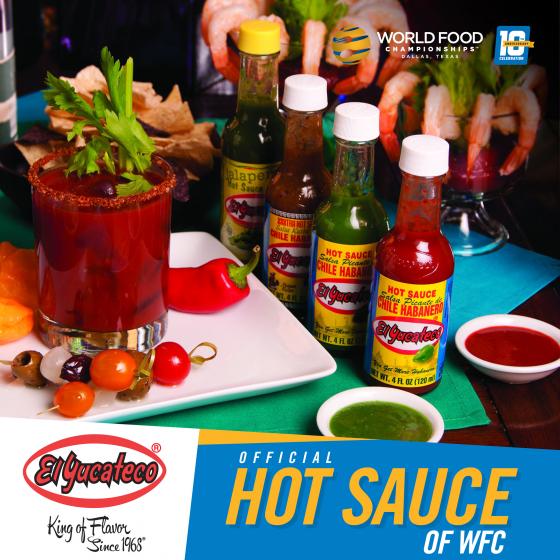 Organizers of the 10th Annual World Food Championships (WFC) and the 55th Annual World Championship Chili Cook-off (WCCC) made a hot new announcement today in partnership with El Yucateco. This year, for the first time, El Yucateco will spice things up in Food Sport by becoming the Official Hot Sauce of both WFC and WCCC.
"Introducing world-renowned brands into the heat of Food Sport is one of our most exciting objectives," said Mike McCloud, President and CEO of WFC and WCCC. "From the sizzling steaks of Kitchen Arena in Dallas to the bubbling chili in Myrtle Beach, there is a ton of fun going to take place this year in competition cooking, and we couldn't be more excited to share that fun with our new friends at El Yucateco."
Founded in 1968 as a small family business devoted to making quality habanero hot sauces, El Yucateco is now a leading producer of fiery and flavorful sauces that are available at retailers globally. Spin365 Marketing, a subsidiary of The Padilla Group, is exclusively responsible for El Yucateco's brand marketing, sales, and public relations in North America.
"This is a great opportunity for the El Yucateco brand to shine as the Official Hot Sauce of the World Food Championship and the World Championship Chili Cook-off. El Yucateco has a wide variety of hot sauces that are the perfect blend of flavor and heat for food sport enthusiasts to use in their recipes and with their favorite foods," said John Meyer, Vice-President at Spin365 Marketing.
As the Official Hot Sauce sponsor, El Yucateco will be filling the WFC pantry with its high quality products as competitors battle it out for the hundreds of thousands of dollars in prizes. Likewise, the company will provide hundreds of professional chili cooks at WCCC55 with various samples that they can also include in their championship chili recipes.
Stay tuned for more partnership announcements about the upcoming World Food Championships and World Championship Chili Cook-off, which will both be held later this year. Ticketing options for both events will be announced soon.
In the meantime, stay up-to-date on all culinary competition news, by following the World Food Championships on Twitter (@WorldFoodChamp), Facebookand Instagram(@WorldFoodChampionships).
To learn more about WCCC, follow the World Championship Chili Cook-off onFacebook,Twitter andInstagram or head to the official ICS Website.
About World Food Championships
The World Food Championships (WFC) is the highest stakes food competition in the world. This multi-day, live event culinary competition showcases some of the world's best cooks who compete for food, fame and fortune in 10 categories (Bacon, Barbecue, Burger, Dessert, Rice/Noodles, Sandwich, Seafood, Soup, Steak and Vegetarian). In 2021, more than 300 culinary teams from 5 countries and 40 American states competed in WFC's Main Event. The Champions of each category will now face their next challenge called The Final Table, which will be held at South Carolina's Lake Murray Country in late April (Click here to request an invitation to the event). While contestants have to earn their way into WFC by winning a Golden Ticket at a previous competition, potential judges are welcome to take WFC's online certification course that explains the E.A.T. methodology. Certified judges then request and receive available seats at the next scheduled WFC event. Click here to learn more about getting certified.
About the International Chili Society
Legendary race car driver and automotive icon Carroll Shelby started the International Chili Society in 1967 as a fun way to compete against his friends. Today, ICS sanctions more than 100 events a year nationwide with one mission – to continuously celebrate chili while raising money for charities and nonprofits. More than $100 million has been raised for charities by ICS over the past five decades. To celebrate each year's pro-chili season, ICS holds a World Chili Championship Cook-off (WCCC) and crowns World Champions in key categories. To see previous winners, click here.
« Back to News