Food Sport's Flavor Experts Back for WFC's 10th Anniversary
Share:
Posted Mar 10, 2022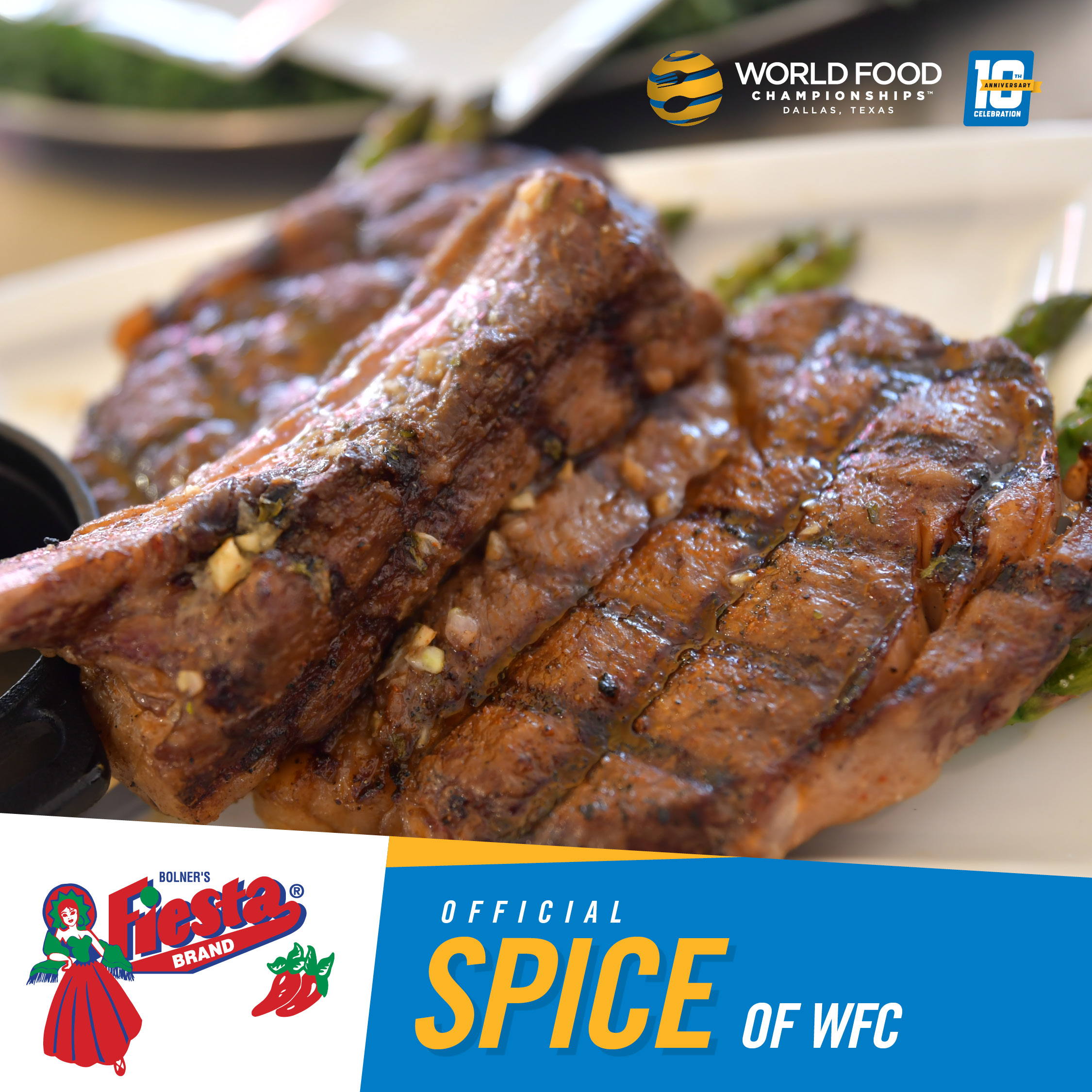 Texas-based Bolner's Fiesta Products, Inc. announced today that it will be back in the Food Sport action this fall as the World Food Championships celebrates its 10th Anniversary in Dallas. As the Official Spice of WFC's "main event," Fiesta's specialty seasonings and spices will be featured in the event's competitor pantry, as well as the infused ingredient as the category sponsor of the World Steak Championship.
"Bolner's has become a competitor favorite in Food Sport, so we are very excited to have them back in such an integrated way for our 10th anniversary," said Mike McCloud, President and CEO of WFC. "For years now, the Bolner family has become a trusted and respected partner for our competitive cooks as they develop unique, tasty recipes in our championship. Everyone knows that a lot of money and prestige is on the line at WFC, so having the best ingredients is absolutely a must."
Another bit of good news for competitors who have not yet earned their way into this year's Main Event. Bolner's is hosting the upcoming Taste Of America Challenge, which is set to open Tuesday, March 15th with the submissions deadline of Tuesday, March 22nd. Put your best recipe forward by incorporating any Bolner's Fiesta product for the chance to win a Golden Ticket to WFC 2022. You can find Bolner's products at most grocery stores or you can order online at https://www.fiestaspices.com/
Since 1955, the Bolner family has been purchasing spices from around the world and has prided itself in being a family-owned, family-run company. Today, the company imports spices from more than 60 countries and offers over 600 products from their San Antonio facility.
"Year after year we are amazed by all the creative and delicious dishes that come out of this world class competition," said Liz Curtis, Technical Marketing at Bolner's Fiesta Products. "We truly appreciate the support of the World Food Championships and of all the competitors and look forward to the 10th anniversary of this wonderful Food Sport event."
The Ultimate Food Fight is currently set to take place in Dallas, TX from Nov. 7-12. Ticketing options for the foodie event, which will include "Best of the Fest" tasting opportunities, will be available soon. To be notified when early-bird offers are announced, sign up for alerts by sending an mail to info@worldfoodchampionships.com.
For all other Food Sport announcements, follow the World Food Championships on Twitter (@WorldFoodChamp), Facebook and Instagram (@WorldFoodChampionships).
About World Food Championships
The World Food Championships (WFC) is the highest stakes food competition in the world. This multi-day, live event culinary competition showcases some of the world's best cooks who compete for food, fame and fortune in 10 categories (Bacon, Barbecue, Burger, Dessert, Rice/Noodles, Sandwich, Seafood, Soup, Steak and Vegetarian). In 2021, more than 300 culinary teams from 5 countries and 40 American states competed in WFC's Main Event. The Champions of each category will now face their next challenge called The Final Table, which will be held at South Carolina's Lake Murray Country in late April (Click here to request an invitation to the event). While contestants have to earn their way into WFC by winning a Golden Ticket at a previous competition, potential judges are welcome to take WFC's online certification course that explains the E.A.T. methodology. Certified judges then request and receive available seats at the next scheduled WFC event. Click here to learn more about getting certified.
« Back to News