WFC Releases Official Gateway Partners for 10th Anniversary
Share:
Posted Feb 1, 2022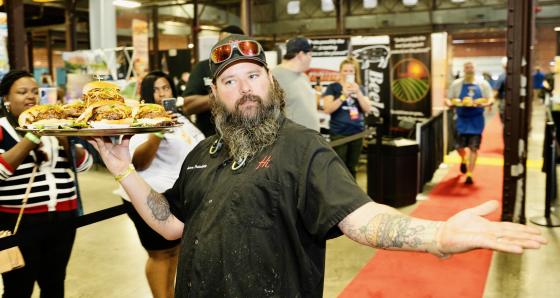 Now that the Early Bird Registration is closed and the 2022 Food Sport season is officially underway, the World Food Championships (WFC) has just announced its list of official qualifying gateways into the much anticipated 10th Anniversary of the "The Ultimate Food Fight."
As in years past, WFC will have four primary tiers of qualifying events: Online virtual contests, State Partners, International Partners and Preferred Qualifiers.
Through its State Qualifier program, WFC has already established eight partners that include Alabama, Connecticut, Indiana, Maryland, Missouri, South Carolina, Tennessee and Texas. These states will be hosting challenges that qualify home cooks and chefs from around their state to build an official WFC State Team. More specific State Partner details will be released throughout the year leading up to WFC's Main Event.
On the global front, WFC has also established a relationship with several International Partners –– Australia, Canada, Dominican Republic and Italy –– who will all be holding their own championships that will qualify teams into WFC to represent their country of origin.
Additionally, the leader in Food Sport has confirmed an official list of Preferred Qualifiers. Preferred Qualifiers are cooking competitions that meet WFC guidelines and specifications for conducting fair contests and certifying winners. Champions of these events will receive a 2022 Golden Ticket with a paid entry.
Here is a list of the 2022 major qualifiers as of Jan. 31, 2021:
Sertoma Chili Cook-Off - Springfield, MO - Feb 19, 2022

BaconFest MKE - Milwaukee, WI - Feb 27, 2022

Gulf Coast Beer and Bacon Festival - Gulfport, MS - March 5, 2022

Taste of Lake Murray - Columbia, SC - March 31, 2022 (State Partner)

Canadian Festival of Chili & BBQ - 5/13 -15, 2022

World Food Championships Australia - Sydney, Australia - May 27 - 29, 2022

Mohegan Sun BBQ - Uncasville, CT - June 11-12, 2022 (State Partner)

World Food Championships Australia - Melbourne, Australia - July 8 - 10, 2022

HANTX Chef Throwdown - Dallas, TX - August

Tennessee State Fair - Lebanon, TN - August (State Partner)

Canadian BBQ Society (CBBQS) - August

Big Kahuna Wing Festival - Knoxville, TN - September (Labor Day Weekend)

World Championship Chili Cook-off - Myrtle Beach, SC - September 23-25

Dallas College Last Chance Qualifier - Dallas, TX - October (State Partner)
Don't see your local cook off included? No worries. Events will be added throughout the year. Visit https://worldfoodchampionships.com/qualifying-events for the most current list. For more info on becoming an Official Qualifying Event, email jb@worldfoodchampionships
Registration to compete at WFC 2022 officially opens Feb. 1st at 10am Central at ​​https://worldfoodchampionships.com/registration. Each category will be filled on a first-come, fully-confirmed basis.
As previously stated in WFC communications, here is a list of groups that are automatically qualified and have the ability to register into WFC 2022:
Any WFC competitor who has advanced to the Top Ten round of any category in WFC's ten year history.
Steak competitors who have won a 2020 or 2021 SCA sanctioned event.
Barbecue teams that have won a Grand Championship in 2021 from any official sanctioning body. The approved sanctioning bodies include, but are not limited to, Champion's Barbecue Alliance (CBA), MBN, KCBS (Master's series), Pacific Northwest BBQ Association, St Louis BBQ Association, FBA, IBCA, SBN (Southern BBQ Network), SCBA and Lonestar BBQ Society.
More information will be released soon on WFC's Taste of America program, which will include a series of product-specific online contests in 2022.
To stay up to date on qualifying events that are added throughout the year, please check WFC's Qualifiers page on a regular basis. In the meantime, follow the World Food Championships on Twitter (@WorldFoodChamp), Facebook and Instagram (@WorldFoodChampionships) for more Food Sport updates.
About World Food Championships:
The World Food Championships (WFC) is the highest stakes food competition in the world. This multi-day, live event culinary competition showcases some of the world's best cooks who compete for food, fame and fortune in 10 categories (Bacon, Barbecue, Burger, Dessert, Rice/Noodles, Sandwich, Seafood, Soup, Steak and Vegetarian). In 2021, more than 300 culinary teams from 5 countries and 40 American states competed in WFC's Main Event. The Champions of each category will now face their next challenge called The Final Table, which will be held at South Carolina's Lake Murray Country in late April (Click here to request an invitation to the event). While contestants have to earn their way into WFC by winning a Golden Ticket at a previous competition, potential judges are welcome to take WFC's online certification course that explains the E.A.T. methodology. Certified judges then request and receive available seats at the next scheduled WFC event. Click here to learn more about getting certified.
« Back to News