Culinary Competitors Cash In On New Food Sport Program
Share:
Posted Jan 5, 2022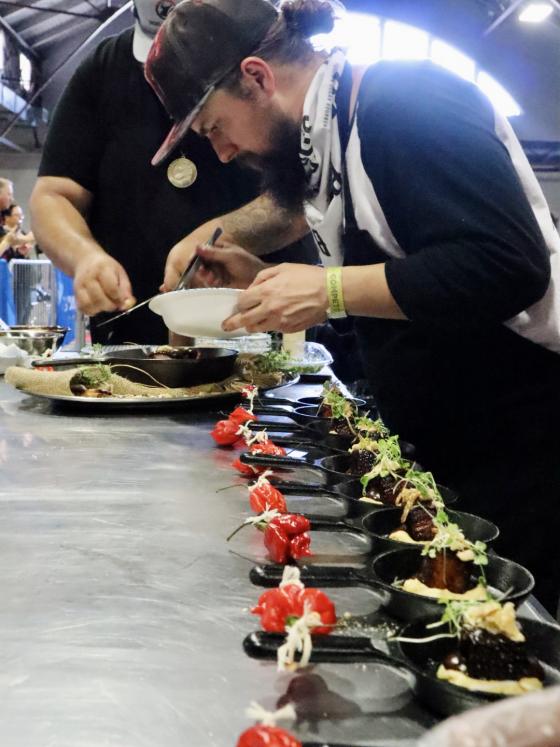 As partners and competitors of Food Sport already know, the World Food Championships feature dozens of category competitions and challenges that are critical to the process of crowning the event's Final Table contestants. But one of the lesser known aspects is the event's "behind the scenes" challenges, where teams can earn additional money by featuring key products in their recipe creations.
This is called the Bonus Bucks program, and in 2021 there were four products featured in this process that awarded an additional $6,600 to competitors in all categories. This initiative made each category competition even more exciting by adding onto the $300,000 prize purse already up for grabs.
The companies and products that were part of the 2021 Bonus Bucks challenge included La Lechonera, Bolner's Fiesta Seasonings, John Boy & Billy Grillin' Sauce and Crystal Hot Sauce.
Once all the scores were tabulated, the following cooks and teams were officially certified by WFC organizers as the official winners of these special challenges:
Sandi Sheppard & Joaquim Rodrigues- tied for highest scoring Signature dish using John Boy & Billy Grillin' Sauce

Adrienne Vradenburg- highest scoring Structured dish using John Boy & Billy Grillin' Sauce

Jonathan Giovannoni- highest scoring Top 10 dish using John Boy & Billy Grillin' Sauce

Carol Koty- highest scoring Structured Seafood dish using Crystal Hot Sauce

Brandon O'Guin- highest scoring Kitchen Arena category Signature rounds participant using La Lechonera products

Carol Koty- highest scoring Structured Seafood participant using Bolner's Fiesta Seasonings
The World Food Championships also paid out additional Bonus Bucks to Casey Jones, Brandon O'Guin and Carol Koty for utilizing various ingredients from multiple sponsors.
"The Bonus Bucks program added a little extra heat to the already red hot category championships taking place at the Ultimate Food Fight," commented Mike McCloud, President and CEO of WFC. "I would like to thank all of our sponsors and competitors for participating in and supporting this fun initiative."
As if the thousands of dollars in Bonus Bucks weren't enough, Seafood competitor Carol Koty took home the title of World Seafood Champion and the grand prize of $7,500. Her next step will be heading to Lake Murray Country in South Carolina to compete in WFC's Final Table for $100,000 and the title of World Food Champion.
Stay up-to-date on all culinary competition news by following the World Food Championships on Twitter (@WorldFoodChamp), Facebook and Instagram (@WorldFoodChampionships).
About World Food Championships:
The World Food Championships (WFC) is the highest stakes food competition in the world. This multi-day, live event culinary competition showcases some of the world's best cooks who compete for food, fame and fortune in 10 categories (Bacon, Barbecue, Burger, Dessert, Rice/Noodles, Sandwich, Seafood, Soup, Steak and Vegetarian). In 2021, more than 300 culinary teams from 5 countries and 40 American states competed in WFC's Main Event. The Champions of each category will now face their next challenge called The Final Table, which will be held at South Carolina's Lake Murray Country in late April (Click here to request an invitation to the event). While contestants have to earn their way into WFC by winning a Golden Ticket at a previous competition, potential judges are welcome to take WFC's online certification course that explains the E.A.T. methodology. Certified judges then request and receive available seats at the next scheduled WFC event. Click here to learn more about getting certified.
« Back to News