WFC Opens Early Bird Registration For 10th Anniversary Event
Share:
Posted Jan 3, 2022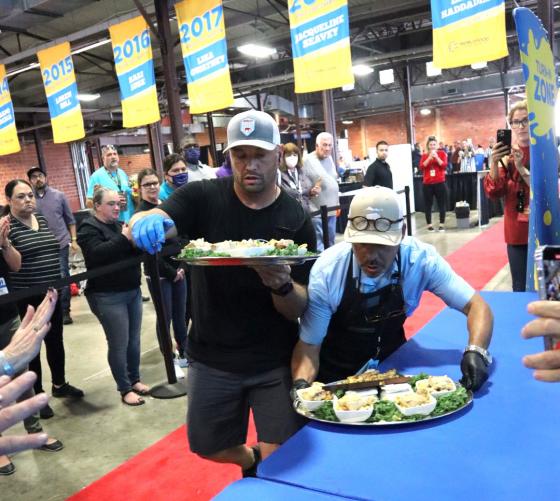 The 2022 Food Sport season has officially begun, and the World Food Championships (WFC) has opened its Early Bird Registration with a sweet twist to celebrate its 10th Anniversary.
The Dallas-based competition has announced that for the first time in its history, WFC will be automatically qualifying every previous competitor who has ever advanced to the Ultimate Food Fight's top ten rounds from 2012-2021. This means over 600 chefs and home cooks will kick the year off by battling for a spot to compete in the big dance, which will once again be held at Fair Park, November 7-12.
Competitors are able to register into ANY category of their choice, as long as spots are available
Although registration fees are going up in 2022 (for the first time since 2015), WFC is offering a $100 discount for qualified teams during the Early Bird Registration period. That period will run from January 3-21, and a list of key registration / event changes is available here.
WFC recently announced that its 2022 event will be featuring 10 categories (Bacon, Barbecue, Burger, Dessert, Rice/Noodles, Sandwich, Seafood, Soup, Steak and Vegetarian) with Rice/Noodles and Vegetarian being new to the lineup.
Up to 25 of the 30 team spots in each category will be available during this Early Bird period. The remaining 5 team spots will be reserved for later in the season as qualifier programs and partners conduct their events.
"This obviously changes everything," McCloud noted. "Limiting the field will make it harder to get into WFC. So our regional and state partners will now have a much more valuable gateway process that teams should be looking into. And of course, for those teams who have been fortunate enough to finish in a Top 10 before, it's imperative to get registered as soon as possible because we will definitely fill up faster than ever in 2022."
Also new to the 2022 season is that refunds are not available; however, for the first time, WFC is allowing competitors to resell their "Golden Tickets" later in the season to another qualified team (with verification from WFC).
Please see below for a complete list of competitors who are eligible for the Early Bird Registration offer:
2012-2021 Top Ten Competitors from each category

2021's Category Champions and All Previous World Food Champions (who still need to register and save their spots during the registration period, but do not have to pay the fee)

2021's Super Qualifier Winners (top 10)

Any competitor who already earned but couldn't use their Golden Ticket in 2021 due to emergency situations and — very importantly — communicated with WFC to receive a waiver. (We have a list of those teams.)
To take part in Early Bird Registration, go to worldfoodchampionships.com/registration starting January 3rd at 10:00 am CST. When prompted, choose the appropriate "Qualifying Event" –– for example, if you were a 2018 Top Ten Finisher, you will choose "2018 WFC Top Ten" as your qualifier. WFC will be reviewing, approving and then certifying all registrations.
Stay up-to-date on all culinary competition news by following the World Food Championships on Twitter (@WorldFoodChamp), Facebook and Instagram (@WorldFoodChampionships).
About World Food Championships:
The World Food Championships (WFC) is the highest stakes food competition in the world. This multi-day, live event culinary competition showcases some of the world's best cooks who compete for food, fame and fortune in 10 categories (Bacon, Barbecue, Burger, Dessert, Rice/Noodles, Sandwich, Seafood, Soup, Steak and Vegetarian). In 2021, more than 300 culinary teams from 5 countries and 40 American states competed in WFC's Main Event. The Champions of each category will now face their next challenge called The Final Table, which will be held at South Carolina's Lake Murray Country in late April (Click here to request an invitation to the event). While contestants have to earn their way into WFC by winning a Golden Ticket at a previous competition, potential judges are welcome to take WFC's online certification course that explains the E.A.T. methodology. Certified judges then request and receive available seats at the next scheduled WFC event. Click here to learn more about getting certified.
« Back to News