BBQ Celebrity Wins at the Ultimate Food Fest in Dallas
Share:
Posted Dec 27, 2021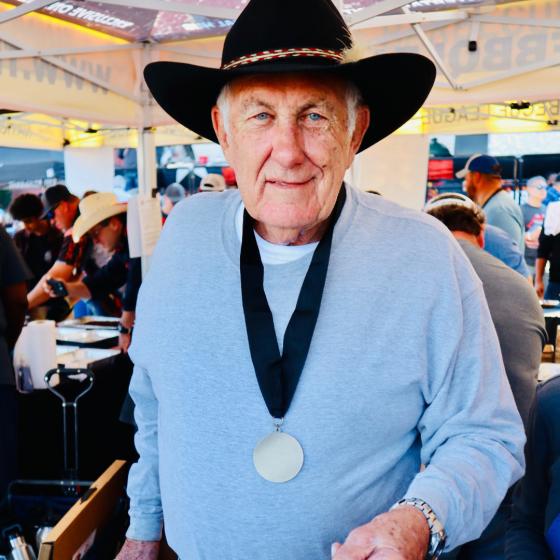 What happens when you add peanut butter and jelly to succulent ribs? Or bacon-wrapped raspberry chipotle? Or pineapple chile? The answer is simple. You get a fan-favorite foodie event called "Bourb'N'Que," one of the most popular special food sport events produced by the World Food Championships (WFC).
This year's version, which occurred November 6 at Fair Park in Dallas, featured 10 champion pitmasters, over 5,000 ribs, bourbon tastings and beer samples for over 500 carnivores. After several hours of smoking, searing, flavoring, tasting and voting, the rib tasters registered their votes and selected Texas-based Pitmaster Johnny Trigg as the 2021 Bourb'N'Que Champion.
His victory wasn't an easy one, as The BBQ League–– event partner of Bourb'N'Que 2021–– was out in full force with stiff competition. Here's a list of the participating Pitmasters who made the event a success:
Tim Scheer | Shake 'N Bake BBQ | New Haven, MO
Fred Robles | Rio Valley Meat BBQ | Weslaco, TX
Bill Purvis | Chicken Fried BBQ | Magnolia, TX
Johnny Trigg | Smokin Triggers BBQ | Alvarado, TX
Sterling Smith | Loot N' Booty BBQ | Scottsdale, AZ
Bethany McAllister | 913 BBQ | Olathe, KS
Mike Johnson | Sugarfire | St. Louis, MO
Chris Schafer | Heavy Smoke BBQ | O'Fallon, MO
James Cruse | Central City BBQ | Arabi, LA
Brad Leighninger | Gettin' Basted | Nixa, MO
"These pitmasters are the best in the world, and they proved it once again at this year's Bourb'N'Que, which is becoming one of WFC's most exciting and delicious events," said Mike McCloud, president and CEO of WFC. "Any one of these talented pitmasters can win over your taste buds with their special taste profiles, and we are looking forward to what they bring to the table next year."
WFC would like to acknowledge and thank the partners and sponsors who helped make Bourb'N'Que a success. They included Natural Tableware, Prairie Fresh, Blues Hog, Bulleit Bourbon, Sixty Men Straight Bourbon Whiskey and Boulevard Brewing Company.
Click here to get a taste of the 2021 Bourb'N'Que Experience by viewing the official video recap.
Stay up-to-date on all culinary competition news, by following the World Food Championships on Twitter (@WorldFoodChamp), Facebook and Instagram (@WorldFoodChampionships).
About World Food Championships:
The World Food Championships (WFC) is the highest stakes food competition in the world. This multi-day, live event culinary competition showcases some of the world's best cooks who compete for food, fame and fortune in 10 categories (Bacon, Barbecue, Burger, Chef, Dessert, Recipe, Sandwich, Seafood, Soup and Steak). In 2021, more than 200 culinary teams from 5 countries and 40 American states competed in WFC's Main Event. The Champions of each category will now face their next challenge called The Final Table, which will be held at South Carolina's Lake Murray Country in late April (
Click here
to request an invitation to the event.) While contestants have to earn their way into WFC by winning a Golden Ticket at a previous competition, potential judges are welcome to take WFC's online certification course that explains the E.A.T. methodology. Certified judges then request and receive available seats at the next scheduled WFC event.
Click here
to learn more about getting certified.
« Back to News