The Fire Woman Challenge Brought the Heat at the Ultimate Food Fest
Share:
Posted Dec 16, 2021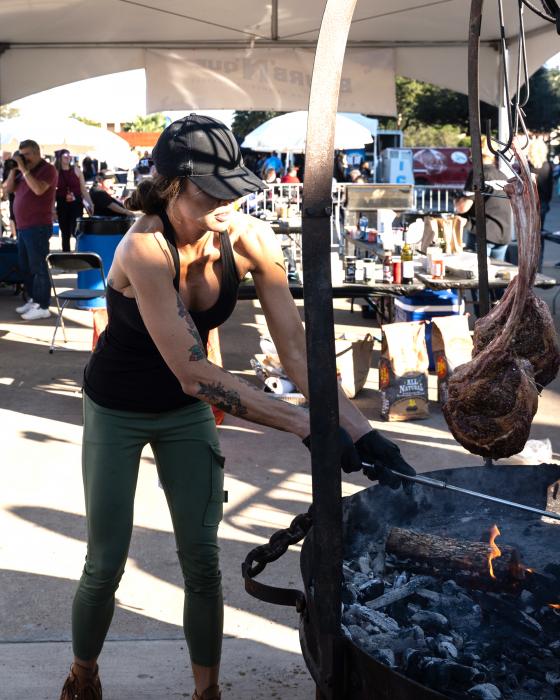 The smokers are long gone, and the fires have been safely doused at the 9th Annual World Food Championships (WFC). But one of the hottest competitions at the event is still stoking the Food Sport flames because of the talented and unforgettable action during the Fire Woman Challenge. This crowd favorite occurred on Sunday, November 11th and featured the four most decorated female pitmasters in recent years. Their performance did not disappoint
The Fire Woman Challenge is an old-fashioned barbecue brawl where lady pitmasters go head-to-head in a 90-minute, no-electricity, no-menu-limit competition. The competitors were tasked to craft their best barbecue dish infusing the Official Sauce of the Firewoman Challenge –– Sienna Sauce, a Texas-based barbecue sauce that has been a WFC competitor/pitmaster favorite for several years.
When the dust settled and the dishes were served, the official 2021 Fire Woman Challenge Results were as follows:
1st Place: Heather Sinyard of Helen, Georgia

2nd Place: Christina Fitzgerald of St. Louis, Missouri

3rd Place: Jackie Milligan of San Antonio, Texas

4th Place: Lu Holter of Hudson, Wisconsin
In addition to competing in the Fire Woman Challenge, all four of the female pitmasters claimed additional honors during the WFC main event. Christina Fitzgerald placed 9th overall in the Bacon World Championship, Heather Sinyard placed 7th overall in the World Dessert Championship, Jackie Milligan placed 11th overall in the World BBQ Championship (EAT Division) and Lu Holter placed 9th overall in the World Seafood Championship.
"The Fire Woman Challenge is a fan-favorite at WFC due to the creative cooking techniques and the fun but competitive atmosphere that the lady pitmasters provide," said Mike McCloud, President and CEO of WFC. "We are looking forward to not only continuing this fantastic competition but growing it at our 10th Annual Anniversary next year."
Everyone knew that the judging for this star-studded challenge was going to be tough. That's why WFC brought in three celebrity food judges to guarantee integrity and quality during the scoring of each dish. Those individuals included Dave Anderson, founder of Famous Dave's Restaurant Chain; Tyla-Simone Crayton, founder of Sienna Sauce; and Lee Ann Whippen, winner of Food Network's BBQ Brawl and Master of 'Cue. To add to the star studded affair, the challenge was emceed/refereed by Chef Eric Gephart, Director of Culinary Inspiration at Kamado Joe.
Stay up-to-date on all culinary competition news, by following the World Food Championships on Twitter (@WorldFoodChamp), Facebook and Instagram (@WorldFoodChampionships).
About World Food Championships:
The World Food Championships (WFC) is the highest stakes food competition in the world. This multi-day, live event culinary competition showcases some of the world's best cooks who compete for food, fame and fortune in 10 categories (Bacon, Barbecue, Burger, Chef, Dessert, Recipe, Sandwich, Seafood, Soup and Steak). In 2021, more than 200 culinary teams from 5 countries and 40 American states competed in WFC's Main Event. The Champions of each category will now face their next challenge called The Final Table, which will be held at South Carolina's Lake Murray Country in late April (Click here to request an invitation to the event.) While contestants have to earn their way into WFC by winning a Golden Ticket at a previous competition, potential judges are welcome to take WFC's online certification course that explains the E.A.T. methodology. Certified judges then request and receive available seats at the next scheduled WFC event. Click here to learn more about getting certified.
« Back to News