High School BBQ World Champions Crowned at the Ultimate Food Fest
Share:
Posted Dec 1, 2021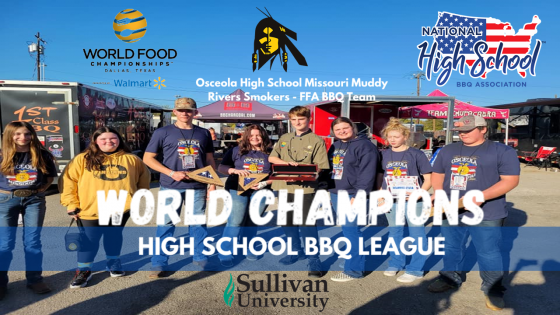 As the smoke clears in Dallas, Texas following the 9th Annual World Food Championships, some young barbeque cooks are still fanning the flames of their success during the High School BBQ League World Championship. Hundreds of chefs, homecooks, and professional pitmasters flocked to the Lonestar State for the "Ultimate Food Fight," where over $300,000 and major bragging rights were on the line. As if there wasn't enough excitement from over 8,000 food competition entries, event organizers turned up the heat with an old fashioned barbecue throwdown featuring the best high school barbecue teams in America.
Five high school teams from multiple states decided to put their homework aside and participate in one of the biggest organized youth culinary competitions in the country. With $1,000 and the title of World Champion on the line, the competition was fierce, but it was team "Muddy River Smokers" representing Osceola Missouri High School that bested the field and came out on top.
Here are the rest of the results:
Reserve Champion: Burnet FFA Bulldog BBQ Team of Texas Burnet High School
3rd Place: Lanier FFA BBQ Team of Texas Juan P. Navarro Early College High School
4th Place: Connally Cadets of Texas Waco Connally High School
5th Place: Charcoal Cats of Tennessee Wilson Central High School
"Having these talented young pitmasters at our Main Event was very exciting for Food Sport," said Mike McCloud, President and CEO of WFC. "Not only did they impress our judges, but they demonstrated how the next generation of great cooks is going to be impressive for years to come. Helping to stoke the flames of competition and celebrate their accomplishments is what WFC is all about."
While the grills were still warming up, all of the teams were treated to a celebrity Q&A featuring barbecue icon and entrepreneur, Dave Anderson, founder of Famous Dave's restaurant chain. Famous Dave shared his experience and advice with the young pitmasters and also answered some questions about the growing barbecue industry.
The founder of the National High School BBQ Association (NHSBBQA), Mike Erickson, was very pleased to have his competition during the World Food Championships.
"Allowing the National High School BBQ Association high school BBQ teams to compete in the World Food Championships was like going to the olympics and competing right next to their idols," said Erickson. "It was a tremendous learning opportunity and honor to showcase the best High School BBQ teams in the country and showcase Food Sport to the next generations of cooks, chefs, and pitmasters."
Stay up-to-date on all culinary competition news, by following the World Food Championships on Twitter (@WorldFoodChamp), Facebook and Instagram (@WorldFoodChampionships).
About World Food Championships:
The World Food Championships (WFC) is the highest stakes food competition in the world. This multi-day, live event culinary competition showcases some of the world's best cooks who compete for food, fame and fortune in 10 categories (Bacon, Barbecue, Burger, Chef, Dessert, Recipe, Sandwich, Seafood, Soup and Steak). In 2021, more than 200 culinary teams from 5 countries and 40 American states competed in WFC's Main Event. The Champions of each category will now face their next challenge called The Final Table, which will be held at South Carolina's Lake Murray Country in late April (Click here to request an invitation to the event.) While contestants have to earn their way into WFC by winning a Golden Ticket at a previous competition, potential judges are welcome to take WFC's online certification course that explains the E.A.T. methodology. Certified judges then request and receive available seats at the next scheduled WFC event. Click here to learn more about getting certified.
« Back to News