The Leader in Food Sport is Bringing The Stars to The Lonestar State
Share:
Posted Oct 30, 2021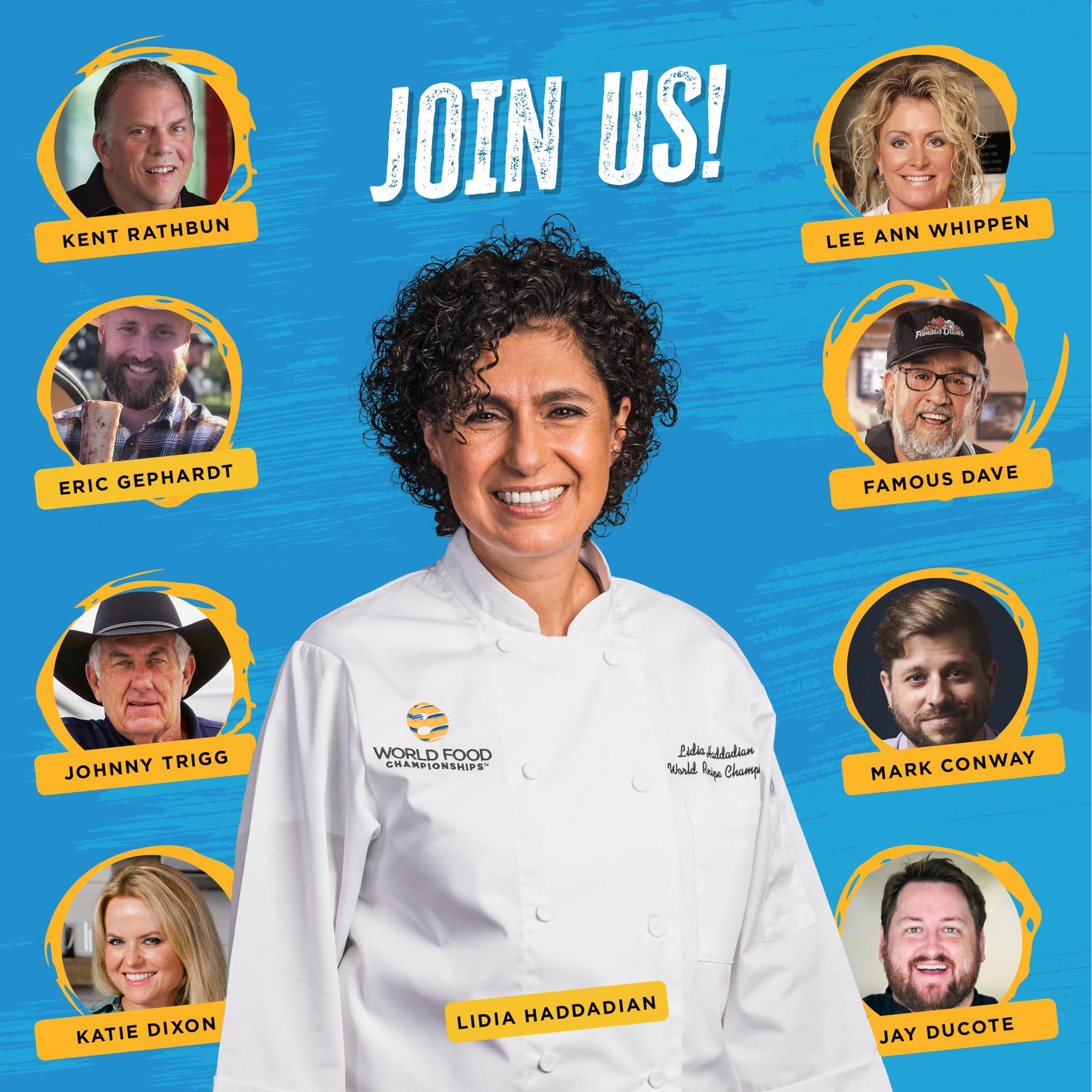 The 9th Annual World Food Championships (WFC) is back in Dallas, where the largest competition in Food Sport will be bringing serious firepower in the form of celebrity chefs and TV cooks. An all-star culinary line-up will be one of many reasons that foodies make their way to Fair Park to spend their first November weekend, in addition to great events like BBQ Ranch, Brunch Bar, Bourb'N'Que, Granny Grilling, Biscuits & Jampionship and more. At stake: over $350,000 in prize money for competitors, but an unforgettable food experience for foodies.
While these culinary stars range from award-winning chefs to champion competitors to entrepreneurs, they all have one thing in common– a love and passion for Food Sport.
Here's a sneak peak at the culinary talent that will be on display during the WFC competition and Flavor Fest:
Kent Rathbun- With appearances on NBC's Today Show, Iron Chef America, Taste of the NFL and more, Rathbun has been a staple of the culinary scene in Dallas for over three decades.

Trey Chapman- As a Texas influencer and restaurateur, Chapman has lived and breathed food for his entire life. He currently runs popular social media pages "Trey's Chow Down" and "Drink with Trey."
Katie Dixon- Award-winning chef, personal trainer, professional speaker and much more! Dixon was a finalist on season 7 of Masterchef and season 14 of Food Network Star.

Jay Ducote- As seen on Food Network Star, Beat Bobby Flay and Chopped, Ducote is an award winning chef, TV Host, Speaker, Producer and entrepreneur.

Eric Gephardt- From attending culinary school to opening restaurants to being the Director of Culinary Inspiration for Kamado Joe Ceramic Grills, Chef Gephardt has made a big splash in the culinary scene.

Johnny Trigg- Known as the "Godfather of BBQ," Trigg has been the only Pitmaster to win the Jack Daniel's World Championship BBQ Invitational twice.

Famous Dave- Founder of the most successful BBQ Restaurant chain in America (Famous Dave's). Also known as the most awarded Pitmaster in history.

Lee Ann Whippen- Winner of Food Network's BBQ Brawl and Master of 'Cue, Restaurateur and award winning pitmaster.

Heather Walker- As seen on Discovery Channel's Bake It Like Buddy and Food Network's Bake You Rich, where she won a partnership with the Cake Boss himself, Walker is one of the most renowned bakers in the business.

Mark Henry - World Wrestling Entertainment (WWE) Legend, Champion and Hall of Famer, Henry represented the United States in weightlifting at the 1992 and 1996 Olympics, holds numerous world records in weightlifting and currently commentates for TNT's Friday Night Rampage.
"The World Food Championships is like 'the Oscars' of Food Sport, and we are rolling out the red carpet to celebrate the 9th Annual Ultimate Food Fest," said Mike McCloud, President and CEO of WFC. "With these culinary celebrities in attendance on top of the hundreds of competitors and thousands of unique dishes that will be produced, this event is unlike anything you've ever experienced."
Tickets to this star-studded food fest are available at tastewfc.com.
To stay up-to-date on all culinary competition news, by following the World Food Championships on Twitter (@WorldFoodChamp), Facebook and Instagram (@WorldFoodChampionships).
About World Food Championships
The World Food Championships (WFC) is the highest stakes food competition in the world. This multi-day, live event culinary competition showcases some of the world's best cooks who compete for food, fame and fortune in 10 categories (Bacon, Barbecue, Burger, Chef, Dessert, Recipe, Sandwich, Seafood, Soup and Steak). In 2019, more than 450 culinary teams from 11 countries and 42 American states competed in WFC's Main Event. In August, the 10 Category Champs went head-to-head for a $100,000 bonus that determined a new World Food Champion in a TV special called The Final Table: Indianapolis. While contestants have to earn their way into WFC by winning a Golden Ticket at a previous competition, potential judges are welcome to take WFC's online certification course that explains the E.A.T.™ methodology. Certified judges then request and receive available seats at the next scheduled WFC event. Click here to learn more about getting certified.
« Back to News