Grilling Grannies Make Smokin' Appearance At Dallas Food Fest
Share:
Posted Oct 6, 2021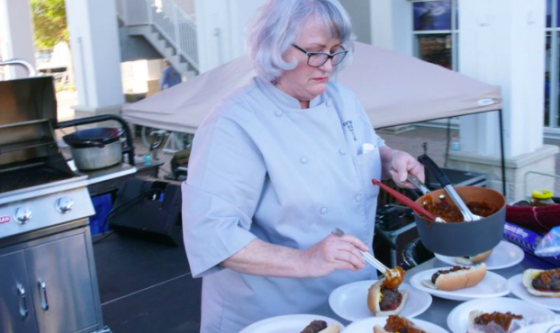 Four fiery ladies will be featured in a unique competition at the World Food Championships' event in Dallas this November, but they will not be whipping up your stereotypical granny cooking. Instead, they will be sharpening their knives for the 3rd Annual Granny Grilling Challenge.
As a part of the world's largest Food Sport competition, WFC annually showcases culinary talents of all backgrounds and ages, which is why the event organizers are proud to bring back its crowd-pleasing, sometimes comical granny-only grilling games.
For this year's challenge, the talented grannies will go head-to-head in a "mystery box" themed competition. With no prior knowledge of what products they will have access to, the grannies will have to follow their culinary instincts and — if history is an indicator — even some of their yoga skills!
The competition will be hosted by fellow WFC grannies, Chef Nancy Manlove (The Nana Chef) and Mary Edwards (a veteran Food Champ).
Food fans can catch these grilling grannies in action on Saturday, November 6th from 1 p.m. - 3 p.m. at WFC's event site, Centennial Hall at Fair Park in Dallas, Texas.
Purchase your General Admission ticket to the ultimate foodie experience and see which lady takes home the granny grilling trophy by clicking here.
Get to know the competing grannies:
KATHI HEMMER | "GRAMMA"
Number of Grandchildren:2 (and one on the way!)
From This "Gramma":I love to cook, I love to bake, I love to compete. I have been competing in the World Food Championships since 2013. I have made it to the Top Ten Round in Dessert (2013, 2014) and Chili. I am currently registered to battle it out in WFC's first ever Soup Category.
I am a home cook, Mom to 2 boys (OK … they are now men), Gramma to my 7 year old Sous Chef Reagan, 9 year Maddox (he is only interested in eating what Reagan and I make) and a soon to be new baby girl coming in December.
I believe that good food can foster the perfect environment for memories and special times with family and friends. Like most, life can be defined by moments, memories, scrap books, lyrics, and chats with friends about old times … but also, our life is defined by food. Food is such a huge part of our everyday life that it's no wonder that certain foods can bring up certain memories or hold a special place in our hearts.
––
TINA CRUTCHFIELD | "GRANNA"
Number of Grandchildren: 1
From This "Granna": I am a mostly self-taught home cook who has been competing for the past fifteen years. I love to be adventurous in the kitchen, experimenting with new flavors from all around the world as well as polishing old family favorites.
I have had the pleasure to compete in the World Food Championships for eight years and have finished Top Ten in my category five of those years, with the help of my very talented sous chef, my husband Rocky.
I have only been a Granny for eighteen months, but it is the best position I have ever held!
Recipe development is my passion and I cannot wait to spend time in the kitchen with my beautiful granddaughter, sharing cherished family recipes as well as making new ones!
I am so excited to join this elite group of champion Grannies. Let the games begin!
––
LIDIA HADDADIAN | "GRAMMA"
Number of Grandchildren: 3
About This "Gramma": Lidia Haddadian is a self-taught home cook whose love for cooking has turned into an exciting culinary adventure. Born and raised in Sao Paulo, Brazil, her passion for cooking began at an early age as she watched her two grandmas' cooking and baking around-the-clock. Lidia's multi-ethnic upbringing has shaped her worldview and cooking style. Married for thirty-four years to the love of her life and sous chef, they have raised four children and are currently enjoying three beautiful grandchildren.
Lidia refers to her cooking style as 'ethnic comfort food with a twist'. Within the last five years, her passion for food competition has gained momentum. Her journey as a self-taught home cook has been filled with exciting culinary adventures. With over 45 contest wins, she currently holds the title of World Food Champion. Lidia believes that hard work, persistence and faith have brought her to where she is now and is hopeful to achieve higher ground.
––
LISA GWATNEY | "LEAZIE"
Number of Grandchildren: 5
About "Leazie": Lisa Gwatney of Memphis, Tennessee, is a self-taught home cook, Mother of 4 wonderful "grown" children and 5 grandchildren. Lisa's hobby of cooking took an exciting turn when she was named the 6th Annual World Food Champion (2018).
Winning the ultimate food fight for this Memphis mom wasn't about the $100,000 mega prize, but the platform the competition gave her to communicate the strong connection between family, friends and food. "When I compete I always cook like I'm cooking for my family. I want to share the importance of sitting down and having a delicious, homemade meal with the ones you love."
Natural, locally sourced products that are healthy and flavorful is more Lisa's style of cooking. Nothing fussy or perfect, just super yummy meals with the people she loves the most. Lisa says, "This is what life is all about."
––
Stay up-to-date on all things Food Sport, follow the World Food Championships on Twitter (@WorldFoodChamp),Facebook and Instagram (@WorldFoodChampionships).
About World Food Championships
The World Food Championships (WFC) is the highest stakes food competition in the world. This multi-day, live event culinary competition showcases some of the world's best cooks who compete for food, fame and fortune in 10 categories (Bacon, Barbecue, Burger, Chef, Dessert, Recipe, Sandwich, Seafood, Soup and Steak). In 2019, more than 450 culinary teams from 11 countries and 42 American states competed in WFC's Main Event. In August, the 10 Category Champs went head-to-head for a $100,000 bonus that determined a new World Food Champion in a TV special called The Final Table: Indianapolis. While contestants have to earn their way into WFC by winning a Golden Ticket at a previous competition, potential judges are welcome to take WFC's online certification course that explains the E.A.T. methodology. Certified judges then request and receive available seats at the next scheduled WFC event. Click here to learn more about getting certified.
« Back to News