World Food Championships Announces All-Star Clean Team
Share:
Posted Sep 8, 2021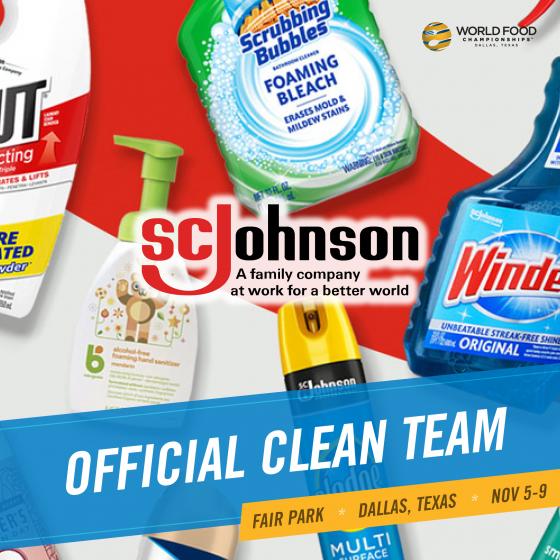 As hundreds of amateur and professional cook teams sharpen their knives and prepare their recipes for the largest Food Sport event in the world, there's at least one thing they won't have to worry about at this year's 9th Annual World Food Championships: cleaning up the mess.
In collaboration with Food Sport's Official Clean Team, SC Johnson Professional, part of S. C. Johnson & Son, Inc., (maker of Ziploc® brand storage bags, Windex® multi-surface cleaners, and more) has been announced as the sponsor of the World Food Championships' clean team. The clean team will be responsible for keeping the 40 cook stations and Kitchen arena spotless and sanitary from round to round, including opening and final rounds in ten different categories. That's a big job, because more than 8,000 culinary dishes will be prepared on site during this year's event.
As a leading manufacturer of professional cleaning products, SC Johnson Professional's products will be used during the kitchen clean and flip process between events. Additionally, attendees will also see SCJ Professional® hand sanitizer stations throughout the event venue at Fair Park's Centennial Hall in Dallas, Texas.
"With numerous trusted brands and products to their credit, we are thrilled to welcome SC Johnson Professional to the WFC this year," said Mike McCloud, President and CEO of WFC. "Having them on our team to assist with making sure our event is operating efficiently and effectively during the world's largest food fight is a fantastic addition to our Food Sport roster."
WFC's 9th Annual Main Event is scheduled for November 5-9, 2021. Ticketing options for the foodie fest are available at worldfoodchampionships.com/tickets.
In the meantime, stay up-to-date on all culinary competition news, by following the World Food Championships on Twitter (@WorldFoodChamp), Facebook and Instagram (@WorldFoodChampionships).
About World Food Championships
The World Food Championships (WFC) is the highest stakes food competition in the world. This multi-day, live event culinary competition showcases some of the world's best cooks who compete for food, fame and fortune in 10 categories (Bacon, Barbecue, Burger, Chef, Dessert, Recipe, Sandwich, Seafood, Soup and Steak). In 2019, more than 450 culinary teams from 11 countries and 42 American states competed in WFC's Main Event. In August, the 10 Category Champs went head-to-head for a $100,000 bonus that determined a new World Food Champion in a TV special called The Final Table: Indianapolis. While contestants have to earn their way into WFC by winning a Golden Ticket at a previous competition, potential judges are welcome to take WFC's online certification course that explains the E.A.T.™ methodology. Certified judges then request and receive available seats at the next scheduled WFC event. Click here to learn more about getting certified.
« Back to News