Dallas Hotel Chefs Earn Way Into World Food Championships
Share:
Posted Aug 13, 2021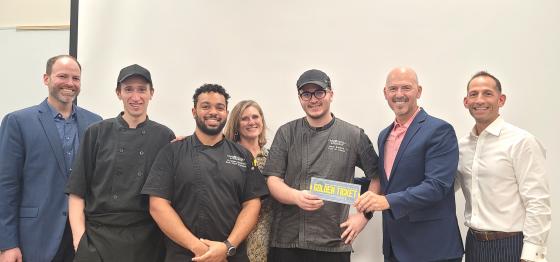 The dust from a sizzling "Iron Chef" weekend has settled, and numerous local chefs from the Dallas area are now setting their sites on the biggest competition of them all, the World Food Championships (WFC), after being named top winners at the Inaugural HOT(el) Chef Throwdown.
The event, which was an official WFC qualifier that's scheduled to be held this November at Fair Park, was presented by Dallas College and the Hotel Association of North Texas (HANTX) –– which is an organization that educates, networks and advocates on behalf of the hospitality industry in North Texas.
Hotel chefs from the region were tasked with creating their "Signature Dish" in a timed, live-cooking competition, where they had to impress three special guest judges: WFC's CEO Mike McCloud, Kristina Rowe of @justmeinbigd, and Dallas College's Senior Director of Workforce Chef Steve DeShazo.
The five dishes to receive the highest score earned a spot to compete at the 9th Annual Ultimate Food Fight, where they'll now go head-to-head against the world's best cooks for a chance at WFC's $300,000 prize purse in November.
The HOT(el) Chef Throwdown winners include:
Joseph Graffeo - Renaissance Dallas - Honey Chipotle Shrimp & Smoked Gouda Grits

Jean Francois Fortin - Fairmont Dallas - Seabass of the Lone Star Forest

Jason Rehbock - Omni Dallas - Best Damn Italian Beef Sandwich

Krystal Perez - Virgin Dallas

Elliott Jacobsen - Hyatt Regency Dallas
In a final twist to the event, WFC's President and CEO Mike McCloud awarded a "Chairman's Choice" award to Anthony DiCesare of O'Reilly Hospitality Management. His dish earned him a "bonus" Golden Ticket to compete at WFC 2021.
Next, the Dallas hotel chefs will be assigned to their categories and learn about WFC's E.A.T.™ Methodology, which is how more than 8,000 dishes are judged and scored at the main event in Dallas. More than 450 teams from 40 states and 10 countries are expected to participate in this year's tournament, which will feature 10 categories of food and be filmed for several national TV shows.
The event's Main Event is open to the public from November 5 through the 7th. Tickets are now available at tastewfc.com.
Stay up-to-date on all things Food Sport, follow the World Food Championships on Twitter (@WorldFoodChamp),Facebook and Instagram (@WorldFoodChampionships).
About World Food Championships
The World Food Championships (WFC) is the highest stakes food competition in the world. This multi-day, live event culinary competition showcases some of the world's best cooks who compete for food, fame and fortune in 10 categories (Bacon, Barbecue, Burger, Chef, Dessert, Recipe, Sandwich, Seafood, Soup and Steak). In 2019, more than 450 culinary teams from 11 countries and 42 American states competed in WFC's Main Event. In August, the 10 Category Champs went head-to-head for a $100,000 bonus that determined a new World Food Champion in a TV special called The Final Table: Indianapolis. While contestants have to earn their way into WFC by winning a Golden Ticket at a previous competition, potential judges are welcome to take WFC's online certification course that explains the E.A.T. methodology. Certified judges then request and receive available seats at the next scheduled WFC event. Click here to learn more about getting certified.
« Back to News