Team Indiana is Revving Up for World Food Championships
Share:
Posted Jul 13, 2021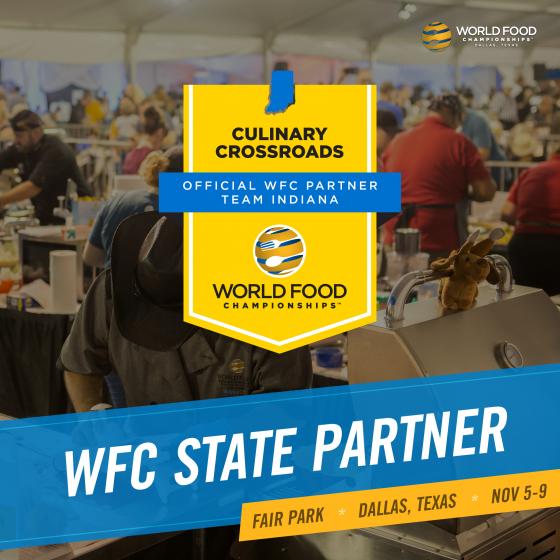 Another state partner just announced that it's gearing up to defend its previous culinary awards at the 9th Annual World Food Championships (WFC) in November. Team Indiana, which also hosted the WFC Final Table in 2020, has now selected its seven decorated competitors who will be heading to Dallas to compete in six categories to claim as much of the $350,000 prize purse as possible.
Team Indiana is made up of home cooks, chefs and professional competitors who are all experienced Food Sport champions. They are all part of the Culinary Crossroads initiative, which focuses on raising awareness of the people, product, places and services which define Indiana's culinary landscape.
"We are thrilled to have Team Indiana back in the Ultimate Food Fight for 2021," said Mike McCloud, President and CEO of WFC. "Culinary Crossroads has been a super partner of WFC, and their passion for Food Sport is unmistakable. They did a beautiful job of hosting our last Final Table, and we can't wait to see what new culinary ideas they'll be bringing to Dallas as we set the new table for another epic battle."
Four Team Indiana members placed in the Top 10 in their respective categories in 2019, the last time WFC was held before getting cancelled in 2020 due to Covid. Returning to compete this fall in Dallas will be:
Cindy Hawkins, who finished 2nd in the 2018 World Dessert Championship

Craig Baker, who was the 2017 World Chef Champion

Erin Gillum, who competed for the first time in 2019, earning her way by winning the Indy Burger Battle

Jennifer Norem, a homecook who placed 2nd in the Bacon Category

Justin Miller, who placed 7th in the 2019 World Recipe Championship

Roger Hawkins, who was only eight points away from a top 10 finish in the Recipe Category

Turon Cummings, who finished 2nd in the 2019 World Burger Championship
"Each and every one of our Team Indiana members are thrilled to be returning to the World Food Championships, which is truly the gold standard for food sport competition," said Larry Dickerson, Director of Culinary Crossroads. "The combination of competition and camaraderie makes it a very special experience for the competitors, sponsors and attendees."
To watch Team Indiana compete in person this November, ticketing options for the Ultimate Food Fest start at just $15 are available, here.
To stay up-to-date on all things Food Sport, follow the World Food Championships on Twitter (@WorldFoodChamp), Facebook and Instagram (@WorldFoodChampionships).
About World Food Championships
The World Food Championships (WFC) is the highest stakes food competition in the world. This multi-day, live event culinary competition showcases some of the world's best cooks who compete for food, fame and fortune in 10 categories (Bacon, Barbecue, Burger, Chef, Dessert, Recipe, Sandwich, Seafood, Soup and Steak). In 2019, more than 450 culinary teams from 11 countries and 42 American states competed in WFC's Main Event. In August, the 10 Category Champs went head-to-head for a $100,000 bonus that determined a new World Food Champion in a TV special called The Final Table: Indianapolis. While contestants have to earn their way into WFC by winning a Golden Ticket at a previous competition, potential judges are welcome to take WFC's online certification course that explains the E.A.T. methodology. Certified judges then request and receive available seats at the next scheduled WFC event. Click here to learn more about getting certified.
« Back to News