The World Food Championships Develops Fresh Partnership With Bonton Farms
Share:
Posted Jun 23, 2021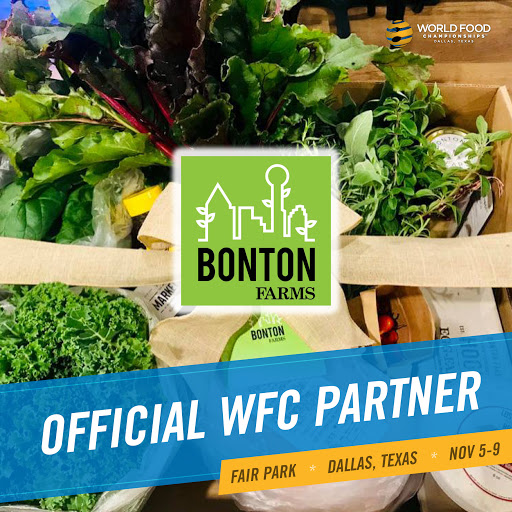 The World Food Championships (WFC) is back this November for its 9th Annual tournament of food and fun, only this time it's featuring a new partnership with Bonton Farms– an urban farm located in Southeast Dallas.
Bonton will be providing fresh produce in many aspects for WFC and its 1500+ visiting cooks and chefs. But prior to that, the new partnership will feature a special series of dinners that combine the talents of past award-winning chefs and the produce from Bonton's farm.
Each month, from June to October, Bonton Farms will host a Farm-to-Table dinner featuring one of WFC's "Champion" Chefs. For the first time, Dallas foodies will have the chance to see and taste what makes the Ultimate Food Fight so special with a custom menu with wine pairings in a dining experience overlooking the farm, accompanied by live entertainment and an open bar.
Virginia chef Mark Conway has been confirmed for the first dinner on June 26, 2021. Tickets for this date are available here. All proceeds go to Bonton Farms initiatives. Doors will open at 6 p.m. CDT and dinner will begin at 7 p.m. CDT.
Other participating WFC chefs will include Gail Huesmann, 2019 Reserve Chef Champion from Port Aransas; Lisa Gwatney, the 2018 World Food Champion from Memphis joined by Lois Spruytte; and 2017 World Bacon Champion Rebecka Evans from Houston, Texas. They'll each prepare a farm-to-table custom menu built around the fresh produce provided by Bonton. Please visit https://bontonfarms.shop/pages/events for more details and event dates.
Starting out as a small garden, Bonton Farms has grown into two fully functioning farms, a café, a farmer's market and a coffee shop. It's focused not just on planting seeds in the ground but also in the community by working with and supporting neighbors to promote a happier and healthier tomorrow.
"After learning about what all Bonton Farms brings to the table for the community in Dallas, we were thrilled to get involved with them on a number of levels," said Mike McCloud, President and CEO of WFC. "The focus of a strong, healthy community through local food is something that our food family has pushed and supported for years, and through this partnership we can bolster that initiative."
For those in the Dallas area who are interested in becoming a certified food judge for official WFC events, Bonton Farms will also host an E.A.T.™ certification course on August 7 from 3-7 p.m. CDT where the Jelly Queen herself, Donna Collins, will be the instructor. Collins has won more than 25 gourmet food awards and has appeared on MasterChef with Gordon Ramsey.
In addition to the farm to table dinners and the E.A.T.™ certification class, Bonton Farms will create a Fresh Pantry at the Ultimate Food Fest where competitors can purchase fresh, locally-grown produce, and then will host a special small-plate, champion-curated dinner at WFC for an exclusive group of VIP ticket holders.
To stay up-to-date on all things Food Sport, follow the World Food Championships on Twitter (@WorldFoodChamp), Facebook and Instagram (@WorldFoodChampionships).
About World Food Championships
The World Food Championships (WFC) is the highest stakes food competition in the world. This multi-day, live event culinary competition showcases some of the world's best cooks who compete for food, fame and fortune in 10 categories (Bacon, Barbecue, Burger, Chef, Dessert, Recipe, Sandwich, Seafood, Soup and Steak). In 2019, more than 450 culinary teams from 11 countries and 42 American states competed in WFC's Main Event. In August, the 10 Category Champs went head-to-head for a $100,000 bonus that determined a new World Food Champion in a TV special called The Final Table: Indianapolis. While contestants have to earn their way into WFC by winning a Golden Ticket at a previous competition, potential judges are welcome to take WFC's online certification course that explains the E.A.T. methodology. Certified judges then request and receive available seats at the next scheduled WFC event. Click here to learn more about getting certified.
« Back to News