Big Kahuna Wing Festival Becomes Strategic Gateway to World Food Championships
Share:
Posted Jun 8, 2021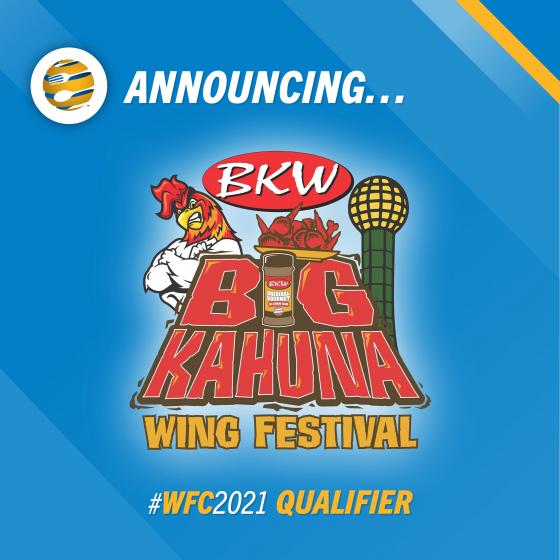 One of Knoxville's most anticipated food events, the Big Kahuna Wing Festival, is back and has been named a Super Regional Qualifier for the world's largest Food Sport event, World Food Championships (WFC).
Through this regional gateway program, the event will qualify five local Knoxville cooks to compete at WFC's 9th Annual Main Event, November 5-7, in Dallas, Texas, where more than $300,000 in prize money is up for grabs.
"The Big Kahuna Festival is personally one of my favorite events to attend annually, and we're happy to be able to welcome them back as a regional qualifier for cooks and chefs who want to compete on a global stage," said Mike McCloud, WFC President and CEO. "These strategic qualifiers not only highlight the great local cuisine from America's diverse regions, but they end up giving passionate cooks a chance at WFC to develop life-long friends who share the same passion and purpose of food through competition."
The September 5th Big Kahuna Wing Festival is expected to fill Downtown Knoxville with its flavorful and alluring aroma of hot wings on the barbie. The festival will feature over 15,000 pounds of wings to be enjoyed by attendees and then ranked by WFC's E.A.T.™ certified judges.
Any E.A.T.™ certified foodie who is interested in putting his or her taste buds to the tests and judging some of the best wings in the South can apply here. If you're not E.A.T.™ certified yet, simply take WFC's online certification course at www.wfcfoodjudge.com to become eligible.
The WFC 2021 qualifying event –– which will be held at the World's Fair Park Performance Lawn located between the Sunsphere and 11th Street –– is currently accepting cooking team applications here. Participating teams will be whipping up their best wing recipes for a chance to take home the event's $10,000 prize purse and "Tennessee's Best Wings-2021" bragging rights.
VIP tickets go on sale July 5th, while General Admission tickets will be available August 5th. Tickets are available at https://www.bkwfestival.com/ticket-info/.
More information on the Big Kahuna Wing Festival can be found at https://www.bkwfestival.com/.
In the meantime, stay up-to-date on all things Food Sport, follow the World Food Championships on Twitter (@WorldFoodChamp),Facebook and Instagram (@WorldFoodChampionships).
About Big Kahuna Wing Festival
This year, the 8th annual Big Kahuna Wing Festival celebrates the creation of the "Buffalo Wing", which has become a national food icon. Invented in 1964 at the world famous Anchor Bar by Teresa Bellisimo, the popularity of the chicken wing has made it America's #1 appetizer. Last year alone over 20 billion wings were consumed by Americans, 1.25 billion on Super Bowl weekend alone.
The Big Kahuna Wing Festival has become one of the best culinary events in the region. Last year the festival drew over 8,000 attendees who enjoyed over 100 different sauces from 40 different teams representing restaurants, cooking teams, businesses, and The University of Tennessee Culinary Institute. Attendees and visitors come from all over the region. All for the love of the "Buffalo Wing" and to raise money for charity.
About World Food Championships
The World Food Championships (WFC) is the highest stakes food competition in the world. This multi-day, live event culinary competition showcases some of the world's best cooks who compete for food, fame and fortune in 10 categories (Bacon, Barbecue, Burger, Chef, Dessert, Recipe, Sandwich, Seafood, Soup and Steak). In 2019, more than 450 culinary teams from 11 countries and 42 American states competed in WFC's Main Event. In August, the 10 Category Champs went head-to-head for a $100,000 bonus that determined a new World Food Champion in a TV special called The Final Table: Indianapolis. While contestants have to earn their way into WFC by winning a Golden Ticket at a previous competition, potential judges are welcome to take WFC's online certification course that explains the E.A.T. methodology. Certified judges then request and receive available seats at the next scheduled WFC event. Click here to learn more about getting certified.
« Back to News