WFC Announces Partnership With Former NFL Champion
Share:
Posted May 29, 2021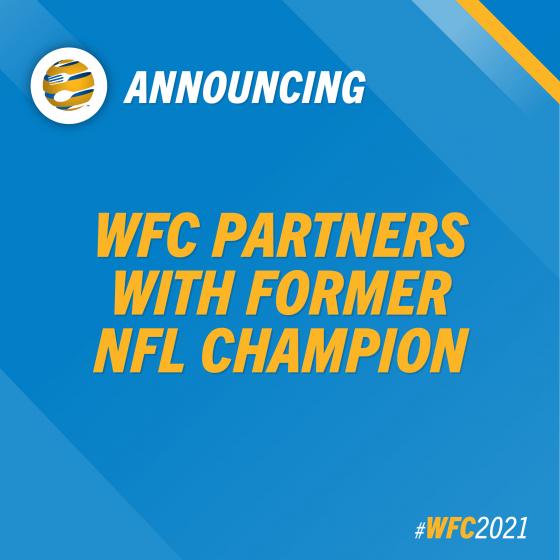 The food sport industry continues to grow stronger as the World Food Championships (WFC) announced today a new partnership with former New England Patriot defensive end Jarvis Green. As an Official Food Sport partner, Green will be introducing his newest food tech app and will host a meet and greet during the 9th Annual Ultimate Food Fest, which will be held at Fair Park in Dallas, Texas, Nov. 5-9.
"We consider WFC competitors to be top-level athletes in their own right, as they have to practice extensively and then battle it out in Kitchen Arena against a clock and other champions," said Mike McCloud, President and CEO of WFC. "That's why traditional sporting legends like Green are always a great addition to our event, as they can bring the sports mentality to all things food and help us celebrate culinary achievements."
Since retiring from professional sports, Green shifted his competitive spirit into entrepreneurial pursuits. The former Patriot and two-time Super Bowl Champ is launching an innovative, food tech app named "Chef2You" that will revolutionize ordering fresh food from chefs and food trucks. App users will have the ability to search and find chefs and food trucks for their events, dates, parties, and/or place orders on meals to go straight from chefs and food trucks, etc.
The app is expected to launch July 2021, and Green will be showcasing Chef2You to both chefs and foodies through an exhibit in WFC's Kitchen Arena.
"Chef2You is a great way to support local businesses, and we think WFC's chefs and foodies will really love its versatility. For chefs and businesses, hospitality is the key to your success with the app. And foodies will have the opportunity to choose their destination." said Jarvis Green, Former NFL Champion and Chef2You Ambassador.
Food and sport fans will also have the chance to attend a Jarvis Green Meet & Greet in WFC's VIP Lounge. Details on how to attend the meet and greet will be released in the coming weeks.
WFC's 9th Annual Main Event is scheduled for November 5-9, 2021 at Fair Park in Dallas, Texas. Ticketing options for the foodie event will be released on July 1st. To sign up for early ticket release and WFC insider perks, click here.
In the meantime, stay up-to-date on all culinary competition news, by following the World Food Championships on Twitter (@WorldFoodChamp), Facebook and Instagram (@WorldFoodChampionships).
About World Food Championships
The World Food Championships (WFC) is the highest stakes food competition in the world. This multi-day, live event culinary competition showcases some of the world's best cooks who compete for food, fame and fortune in 10 categories (Bacon, Barbecue, Burger, Chef, Dessert, Recipe, Sandwich, Seafood, Soup and Steak). In 2019, more than 450 culinary teams from 11 countries and 42 American states competed in WFC's Main Event. In August, the 10 Category Champs went head-to-head for a $100,000 bonus that determined a new World Food Champion in a TV special called The Final Table: Indianapolis. While contestants have to earn their way into WFC by winning a Golden Ticket at a previous competition, potential judges are welcome to take WFC's online certification course that explains the E.A.T.™ methodology. Certified judges then request and receive available seats at the next scheduled WFC event. Click here to learn more about getting certified.
« Back to News