WFC Announces Prime Partnership For BBQ Ranch
Share:
Posted May 20, 2021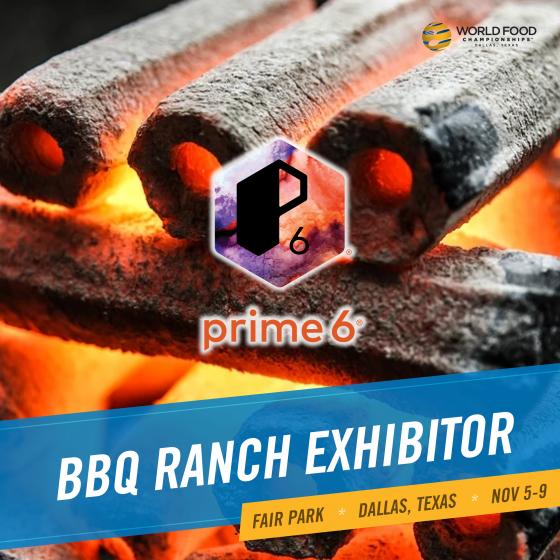 After a year's delay due to the pandemic, the most anticipated event in the food sport industry is saddling up for a BIG comeback this November in Dallas, Texas, with the addition of a premium sustainable charcoal company, Prime 6™. As one of the featured exhibitors , Prime 6™ will be heating things up at the World Food Championships' (WFC) BBQ Ranch, a special tasting and educational zone for all attendees.
Throughout the five-day food event, WFC will feature a special event that will attract meat-lovers from across the nation as thousands of pounds of barbecue will be cooked and served up from the hottest grills and barbecuing tools on the market for foodies to savor and enjoy. This ranch-style block party will be one of the most unique, sustainable barbecue bashes in WFC history, thanks to key partners like Prime 6™ –– who creates charcoal from hardwood sawdust that would otherwise end up in landfill.
"Sustainability is really important to us and our event," said Mike McCloud, President and CEO of WFC. "We are really looking forward to adding Prime 6™ to our barbecue family and eco-friendly lineup of partners. We know their amazing product is going to be a big hit at BBQ Ranch."
According to its website, Prime 6™ is a sustainable, premium charcoal that was conceptualized in August 2018 and brought to market in June 2019. The startup has gained considerable success with milestones that include purchase orders in major retailers such as Walmart, Lowe's and Kroger, planting over 20,000 trees through their partnership with One Tree Planted, and a successful appearance on ABC's Shark Tank.
Co-Owners Riki and Oron Franco presented their mindfully made charcoal to the Sharks and ended up walking away with a $200,000 investment from Kevin O'Leary (aka "Mr. Wonderful") for a 25% stake in the company.
"Prime 6™ is thrilled to be making its Food Sport debut at WFC this year," commented Riki Fanco, President and CEO of Prime 6™. "Not only are we looking forward to showing off our natural products to foodies, but we can't wait to cheer on all the pitmasters and grillmasters in WFC's Barbecue division."
WFC's 9th Annual Main Event is scheduled for November 5-9, 2021, at Fair Park in Dallas, Texas. Ticketing options for the foodie event will be released on July 1st. To sign up for early ticket release and WFC insider perks, click here.
In the meantime, stay up-to-date on all culinary competition news, by following the World Food Championships on Twitter (@WorldFoodChamp), Facebook and Instagram (@WorldFoodChampionships).
About World Food Championships
The World Food Championships (WFC) is the highest stakes food competition in the world. This multi-day, live event culinary competition showcases some of the world's best cooks who compete for food, fame and fortune in 10 categories (Bacon, Barbecue, Burger, Chef, Dessert, Recipe, Sandwich, Seafood, Soup and Steak). In 2019, more than 450 culinary teams from 11 countries and 42 American states competed in WFC's Main Event. In August, the 10 Category Champs went head-to-head for a $100,000 bonus that determined a new World Food Champion in a TV special called The Final Table: Indianapolis. While contestants have to earn their way into WFC by winning a Golden Ticket at a previous competition, potential judges are welcome to take WFC's online certification course that explains the E.A.T.™ methodology. Certified judges then request and receive available seats at the next scheduled WFC event. Click here to learn more about getting certified.
« Back to News