World Food Championships Rises To Support Veterans Through Virtual Fundraiser
Share:
Posted May 14, 2021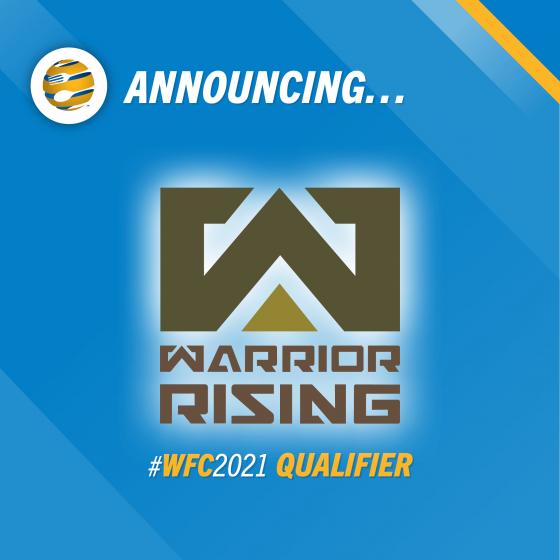 The leader in Food Sport announced today that it is partnering with Warrior Rising, a national organization that empowers and supports veterans who want to become entrepreneurs or go into business after they serve. The World Food Championships (WFC) will assist the nonprofit organization by awarding "Golden Tickets" to Warrior Rising's annual cookoff fundraiser.
Through Warrior Rising's virtual food competition called "Sizzling Into Summer," WFC will advance five of the top cooks into select categories at its 9th Annual Main Event, known as the "Ultimate Food Fight," that's scheduled to be held in Dallas this November and has over $300,000 up for grabs.
"We love supporting charities in any way possible through our event enterprise," commented Mike McCloud, President and CEO of WFC. "We're especially excited that this virtual qualifier will be benefiting vets and supporting them as they look to start or accelerate their own businesses."
Founded in 2015 by former military veterans, Warrior Rising is a non-profit organization that's dedicated to helping U.S. military veterans achieve success in business through partnerships, mentoring and economic assistance. Since inception, the organization has grown from a regional to national organization and continues to be a voice for entrepreneur veterans (which are referred to as "vetrepreneurs") and empower them to succeed after they've served.
"We are thrilled to partner with such a meaningful organization as WFC! It's a total win-win! Let's help military veterans find their purpose again, offer opportunities to compete in the world food championships, and eat some delicious food!" Jason Van Camp, CPT ret. from Special Forces, Warrior Rising Executive Director.
The "Sizzling Into Summer" virtual cookoff fundraiser is currently underway and taking submissions throughout the entire month of May. Contestants are challenged to submit photos and recipes of their best Chicken, Dessert, Seafood and Steak dishes.
WFC Golden Tickets, which are the gateway to competing at the esteemed Dallas food event, will be awarded to the top finishers in each of the four categories. The "Sizzling Into Summer" Grand Champion will not only receive a Golden Ticket, but WFC will also be sweetening the prize with a $500 travel stipend.
The virtual cookoff fundraiser is open to rookies, home cooks, chefs, pro teams and anyone else who would like to participate –– no cooking experience is required. Registration is $25 and all proceeds will benefit Warrior Rising (501c3) to support and empower U.S. military veterans. Click here to register. Winners of this event will be announced the first week of June.
If you are unable to participate and are interested in making a donation to Warrior Rising, click here.
More information on Warrior Rising can be found at https://www.warriorrising.org.
In the meantime, stay up-to-date on all things Food Sport, follow the World Food Championships on Twitter (@WorldFoodChamp),Facebook and Instagram (@WorldFoodChampionships).
About World Food Championships
The World Food Championships (WFC) is the highest stakes food competition in the world. This multi-day, live event culinary competition showcases some of the world's best cooks who compete for food, fame and fortune in 10 categories (Bacon, Barbecue, Burger, Chef, Dessert, Recipe, Sandwich, Seafood, Soup and Steak). In 2019, more than 450 culinary teams from 11 countries and 42 American states competed in WFC's Main Event. In August, the 10 Category Champs went head-to-head for a $100,000 bonus that determined a new World Food Champion in a TV special called The Final Table: Indianapolis. While contestants have to earn their way into WFC by winning a Golden Ticket at a previous competition, potential judges are welcome to take WFC's online certification course that explains the E.A.T. methodology. Certified judges then request and receive available seats at the next scheduled WFC event. Click here to learn more about getting certified.
« Back to News