WFC Heats Up With Brunch Bar And Seafood Sponsor
Share:
Posted Apr 14, 2021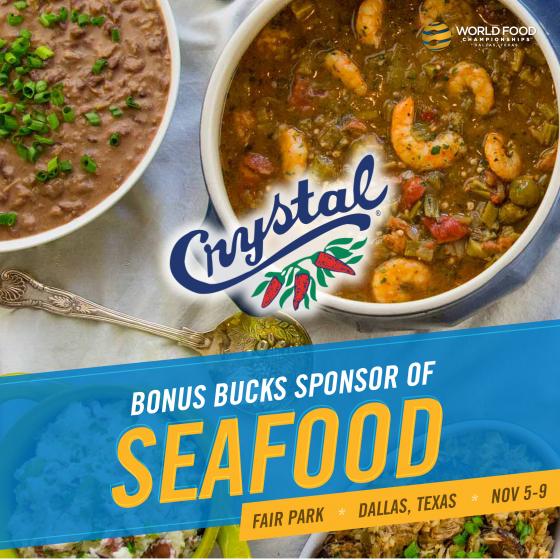 Grills won't be the only thing bringing the heat to the world's largest food sport event this November, thanks to the World Food Championships' (WFC) newest partnership with Crystal Hot Sauce. As an official sponsor of the food fest, they will be spicing up the event in two major ways –– through WFC's Brunch Bar and its seafood division of the competition.
"We are really looking forward to having Crystal Hot Sauce join the Food Sport Family," said Mike McCloud, President and CEO of WFC. "Their quality products are found in about 30 countries around the world from New Orleans to Dubai, so it only makes sense that we would put them in a featured position at WFC."
At the Main Event, Crystal will provide its Original flavor hot sauce, fondly referred to as the OG, to all forty stations in WFC's Kitchen Arena during the Seafood category. Although the infusion of this hot sauce is not a requirement, Seafood competitors will have the opportunity to win extra cash (Bonus Bucks) if they do so. As a Bonus Bucks partner, WFC will award $500 to the highest scoring Seafood Structured Build dish that utilizes the brand. Information on WFC's Bonus Bucks program will be released July 1st with the event's Tournament Chart.
Additionally, the three-generation, family-owned-and-operated business will be featured in one of WFC's newest and most anticipated ticketed events –– the Brunch Bar. Attendees will have the opportunity to try out Crystal's whole-pepper hot sauce products through WFC's Build Your Own Bloody Mary Bar, which is set to take place at Fair Park in Dallas, Nov. 6-7.
Ticketing options for the foodie event will be released by July 1st. To sign up for early ticket release and WFC insider perks, click here.
In the meantime, stay up-to-date on all culinary competition news, by following the World Food Championships on Twitter (@WorldFoodChamp), Facebook and Instagram (@WorldFoodChampionships).
About World Food Championships
The World Food Championships (WFC) is the highest stakes food competition in the world. This multi-day, live event culinary competition showcases some of the world's best cooks who compete for food, fame and fortune in 10 categories (Bacon, Barbecue, Burger, Chef, Dessert, Recipe, Sandwich, Seafood, Soup and Steak). In 2019, more than 450 culinary teams from 11 countries and 42 American states competed in WFC's Main Event. In August, the 10 Category Champs went head-to-head for a $100,000 bonus that determined a new World Food Champion in a TV special called The Final Table: Indianapolis. While contestants have to earn their way into WFC by winning a Golden Ticket at a previous competition, potential judges are welcome to take WFC's online certification course that explains the E.A.T.™ methodology. Certified judges then request and receive available seats at the next scheduled WFC event. Click here to learn more about getting certified.
« Back to News