Boulevard Brewing Hops on as 2021 WFC Partner
Share:
Posted Apr 13, 2021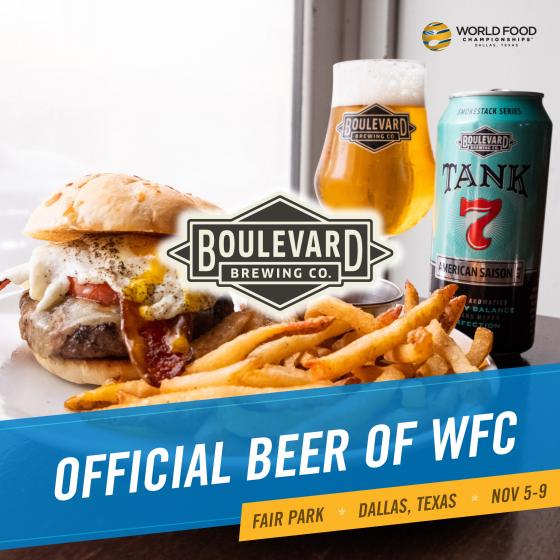 As the 9th Annual World Food Championships (WFC) kicks off this November at Fair Park in Texas, Dallas, foodies will now have an extra incentive to "hop" around the bustling Kitchen Arena, while hundreds of rising star chefs and cooks compete for a $350,000 prize-purse. While the aroma of over 8,000 dishes fills Centennial Hall, the perfect pairing of beer and food will be a daily feature during the competition thanks to the addition of Boulevard Brewing Company as the Official Beer of WFC.
"We are thrilled to have Boulevard joining us again at WFC in Dallas," said Mike McCloud, President and CEO of WFC. "This Kansas City-based brewery is well known for its quality beer options and array of flavors, which our chefs, cooks and food fans truly enjoyed at WFC in 2019."
Founded in 1989, Boulevard has become the largest specialty brewer in the Midwest, with a mission to produce fresh, flavorful beers using the finest ingredients and the best of both old and new brewing techniques.
Along with being named WFC's Official Beer, Boulevard will also be integrated into the tournament as a required infusion for the Burger Category. That means that judges will have to prep their palettes for beer — along with Impossible™ Foods' Burger Patties — during the Top Ten Round as WFC looks to crown the next World Burger Champion.
The burger finalists will be challenged to infuse Boulevard's iconic Tank 7 American Saison –– a twist on a classic Belgian-style farmhouse ale. The Tank 7 beer begins with a big surge of fruity aromatics and grapefruit-hoppy notes, and the flavor of this complex, straw-colored ale tapers off to a peppery, dry finish.
"With its balance, carbonation, and complex flavor profile, Tank 7 is one of the ultimate food-pairing beers in existence," said Adam Hall, Brand Manager of Boulevard Brewing Co., "We knew this beer would be the perfect match for WFC's burger finalist to infuse in their dishes and we can't wait to see how they turn out."
The burger competitor who receives the highest comprehensive score from WFC's E.A.T.™ certified judges will be named the 2021 World Burger Champion and awarded a $10,000 cash prize.
On July 1st, WFC will release a 2021 Tournament Chart, which will reveal more details on the competition's Structured Build and Infusion requirements for each of the ten categories: Bacon, Barbecue, Burger. Chef, Recipe, Dessert, Sandwich, Seafood, Soup and Steak.
WFC ticket holders will have the opportunity to sip on some of Boulevard's most famous flavors at the Dallas event.
The Ultimate Food Fight is set to take place at Fair Park, Nov. 5-9. Ticketing options for the foodie event will be released by July 1st. If you'd like to be one of the first to be notified when tickets go on sale, click here.
In the meantime, stay up-to-date on all culinary competition news, by following the World Food Championships on Twitter (@WorldFoodChamp), Facebook and Instagram (@WorldFoodChampionships).
About World Food Championships
The World Food Championships (WFC) is the highest stakes food competition in the world. This multi-day, live event culinary competition showcases some of the world's best cooks who compete for food, fame and fortune in 10 categories (Bacon, Barbecue, Burger, Chef, Dessert, Recipe, Sandwich, Seafood, Soup and Steak). In 2019, more than 450 culinary teams from 11 countries and 42 American states competed in WFC's Main Event. In August, the 10 Category Champs went head-to-head for a $100,000 bonus that determined a new World Food Champion in a TV special called The Final Table: Indianapolis. While contestants have to earn their way into WFC by winning a Golden Ticket at a previous competition, potential judges are welcome to take WFC's online certification course that explains the E.A.T.™ methodology. Certified judges then request and receive available seats at the next scheduled WFC event. Click here to learn more about getting certified.
« Back to News