WFC Spices Up Its Steak Category With An International Partnership
Share:
Posted Apr 12, 2021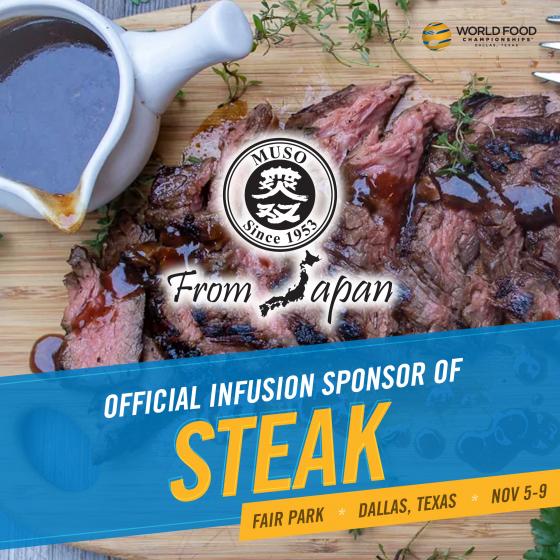 The world's largest Food Sport event, World Food Championships (WFC), announced today that its sponsor lineup has gone international with the addition of Japan Gold USA (JGU), a division of Muso. The Japanese company will be the official infusion sponsor of the 2021 World Steak Championship, which is set to be held in Dallas, Texas this November.
"We are thrilled to see companies from around the world join our growing Food Sport platform," said Mike McCloud, President and CEO of WFC. "Incorporating other products, sponsors and teams from other countries is one of the key growth initiatives for our mission, which is to identify and celebrate chefs/cooks of all types, from all parts of the world."
WFC's Steak competitors who advance to the Top Ten Round will be challenged to create a $10,000 award-winning steak using Hassell Cattle Company's Blue Collar Wagyu Filet Mignon and infusing JGU's Black Garlic Umami Sauce. The Food Champ who receives the highest score while utilizing these products will be crowned World Steak Champion and earn a seat at the $100,000 Final Table Challenge.
Crafted in Miyazaki, Japan, by Momiki Inc, the Black Garlic Umami Sauce is made by adding naturally-aged black garlic to a base sauce. It is a mixture of three Japanese staple condiments; soy sauce, mirin, and sake with hand-crafted kombu-shiitake mushroom vegan broth. The mature and fruity taste, with garlic accent, makes it incredibly versatile for all kinds of cooking styles; barbeque, stir-fried, salad dressings, dips, and marinades.
Stay tuned for more partnership announcements about the upcoming Main Event, which is set to be held Fair Park in Dallas, Nov. 5-9. Ticketing options for the foodie event will be released by July 1st. If you'd like to be one of the first to be notified when tickets go on sale, click here.
In the meantime, stay up-to-date on all culinary competition news, by following the World Food Championships on Twitter (@WorldFoodChamp), Facebook and Instagram (@WorldFoodChampionships).
About World Food Championships
The World Food Championships (WFC) is the highest stakes food competition in the world. This multi-day, live event culinary competition showcases some of the world's best cooks who compete for food, fame and fortune in 10 categories (Bacon, Barbecue, Burger, Chef, Dessert, Recipe, Sandwich, Seafood, Soup and Steak). In 2019, more than 450 culinary teams from 11 countries and 42 American states competed in WFC's Main Event. In August, the 10 Category Champs went head-to-head for a $100,000 bonus that determined a new World Food Champion in a TV special called The Final Table: Indianapolis. While contestants have to earn their way into WFC by winning a Golden Ticket at a previous competition, potential judges are welcome to take WFC's online certification course that explains the E.A.T.™ methodology. Certified judges then request and receive available seats at the next scheduled WFC event. Click here to learn more about getting certified.
« Back to News