Registration Opens for WFC 2021 Judges and Volunteers
Share:
Posted Mar 30, 2021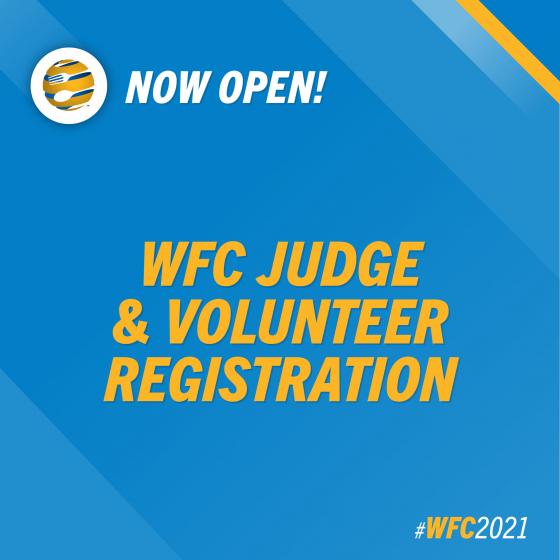 The leader in Food Sport, World Food Championships (WFC), just opened its Judge and Volunteer registration, allowing foodies from around the globe a chance to sink their teeth (or lend a hand) at its 9th Annual Food Fight in Dallas, Texas, this November.
While competitors are fighting for a chance at the $350,000 prize purse, WFC's judges and volunteers will get a behind the scenes look at this larger than life event. After having to cancel the 2020 food fight due to Covid, WFC is ramping up to welcome new and returning foodies to the 2021 judge and volunteer teams.
With major cash on the line, WFC requires all of its judges to become certified in the event's judging process, known as theE.A.T.™ methodology. This is WFC's own proprietary scoring system and process that allows all of its competition categories to be judged on the same criteria, in a consistent manner.
To make it even easier to become a certified judge, WFC now offers an online course, where anyone can become E.A.T.™ Certified from the comfort of home. After course completion, every judge is officially certified and sent a beautiful, custom Gold Card with their unique judge ID number.
If you're already licensed and trained, grab your judge's card or ID number to register today at this link. To make this process even better, certified judges will have the opportunity to rank the categories they would like to judge, and multiple judging assignments are certainly not off the table. The official judge assignments will be sent via email within two weeks of completing the registration form.
As for volunteers, the only requirement is a 'can do' attitude. Opportunities range from serving samples, setting up and breaking down special event areas, greeting and interacting with guests, giving an extra hand to staff, assisting in the judging tent and so much more. A free t-shirt, official tasting area and behind the scenes access is given to all volunteers.
WFC encourages anyone with an interest in competition cooking or anyone who has a love for food to sign up for the experience of a lifetime at the Ultimate Food Fight. The event features tons of unique food challenges, experiences and samplings. Volunteers receive passes to the event for an additional day they are not volunteering. Click here to become a WFC volunteer.
"The World Food Championships is the biggest food competition and live-fire experience in the world, and it simply would not be possible without hundreds of judges and volunteers," said Mike McCloud, President and CEO of WFC. "One of the most fulfilling parts of our event is welcoming new judges and volunteers to the WFC family."
To stay up-to-date on all things Food Sport, follow the World Food Championships on Twitter (@WorldFoodChamp), Facebook and Instagram (@WorldFoodChampionships).
About World Food Championships
The World Food Championships (WFC) is the highest stakes food competition in the world. This multi-day, live event culinary competition showcases some of the world's best cooks who compete for food, fame and fortune in 10 categories (Bacon, Barbecue, Burger, Chef, Dessert, Recipe, Sandwich, Seafood, Soup and Steak). In 2019, more than 450 culinary teams from 11 countries and 42 American states competed in WFC's Main Event. In August, the 10 Category Champs went head-to-head for a $100,000 bonus that determined a new World Food Champion in a TV special called The Final Table: Indianapolis. While contestants have to earn their way into WFC by winning a Golden Ticket at a previous competition, potential judges are welcome to take WFC's online certification course that explains the E.A.T. methodology. Certified judges then request and receive available seats at the next scheduled WFC event. Click here to learn more about getting certified.
« Back to News