WFC Modifies Its Barbecue Division's Competition Strategy
Share:
Posted Mar 2, 2021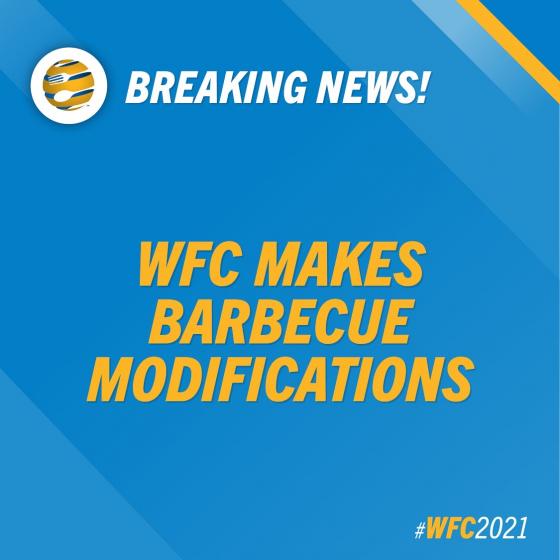 Throughout the history of the World Food Championships (WFC), the Barbecue Championship has always been one of the biggest and most competitive categories. That's because it typically has more teams and more grand champions than any other, and it reflects the long-standing tradition of barbecue competitions that have been around for longer than 30 years.
For those reasons and thanks to a new weekend format for the 9th Annual WFC, organizers just announced a number of process and programmatic changes that will align its Barbecue Championship with the gold standards of the industry. Highlights include a later load-in and earlier load-out for teams, along with ancillary contests scheduled AFTER the key championship rounds.
"Traditionally, our barbecue competitors would load in on a Tuesday or Wednesday, and not compete in our sanctioned contests until Friday or Saturday, depending on their preferred division," commented Mike McCloud, President and CEO of WFC. "This year, we're breaking tradition with a new competition program, which I think will be a welcome game changer for pitmasters and pro teams from all competitive backgrounds."
As it did in 2019, WFC's Main Event will feature two divisions in the barbecue category: International Barbeque Cookers Association (IBCA) – which will be held on Saturday, Nov. 6; and WFC's very own E.A.T.™ sanctioning – occurring Sunday, Nov. 7. The top five finishers from each division will move on to WFC's Top 10 challenge, which will be held on Tuesday, Nov. 9. This is the moment where one of the ten teams will win $10,000, be crowned a category champion title and earn a seat at WFC's bonus $100,000 Final Table competition.
Instead of a four night process like in years past, registered barbecue teams will now have the ability to condense their WFC trip to as little as two nights (Friday, Nov. 5 and Saturday, Nov. 6) and still compete in both barbecue sanctioned contests (IBCA and E.A.T.™). Of course, the teams who advance into the Top 10 challenge will have to extend their stay, but will do so with a lot of money and pride on the line.
From loading in to loading out and all inbetween, here's a quick look at the event's 2021 World Barbecue Championship schedule:
Load-in dates and times:

Thursday, Nov. 4 from Noon - 6pm

Friday, Nov. 5 from 8am - Noon

Competition Schedule:

IBCA:

Mandatory Cooks Meeting –– Friday, Nov. 5 at 3pm

Competition Day –– Saturday, Nov. 6

E.A.T.™:

Mandatory Cooks Meeting –– Friday, Nov. 5 at 4pm

Competition Day –– Sunday, Nov. 7

Load out begins Sunday, Nov. 7 at 6pm
As a reminder, any barbecue team that has won a Grand or Reserve Grand Championship in 2019 or 2020, from any official sanctioning body, is now qualified to register for WFC 2021 in either the Barbecue E.A.T.™ or IBCA division — or both. However, WFC has limited its barbecue field to 50 teams and registration is merited on a first come, first serve basis.
The approved sanctioning bodies include, but is not limited to, MBN, KCBS, PNWBA, SLBS, FBA, IBCA, SBN, SCBA and LSBS.
To register for the WFC 2021 Barbecue Category, click here.
Stay tuned for more competition announcements about the upcoming Ultimate Food Fight. In the meantime, stay up-to-date on all culinary competition news, by following the World Food Championships on Twitter (@WorldFoodChamp), Facebook and Instagram (@WorldFoodChampionships).
About World Food Championships
The World Food Championships (WFC) is the highest stakes food competition in the world. This multi-day, live event culinary competition showcases some of the world's best cooks who compete for food, fame and fortune in 10 categories (Bacon, Barbecue, Burger, Chef, Dessert, Recipe, Sandwich, Seafood, Soup and Steak). In 2019, more than 450 culinary teams from 11 countries and 42 American states competed in WFC's Main Event. In August, the 10 Category Champs went head-to-head for a $100,000 bonus that determined a new World Food Champion in a TV special called The Final Table: Indianapolis. While contestants have to earn their way into WFC by winning a Golden Ticket at a previous competition, potential judges are welcome to take WFC's online certification course that explains the E.A.T. methodology. Certified judges then request and receive available seats at the next scheduled WFC event. Click here to learn more about getting certified.
« Back to News