WFC Marches Towards Announcing its Top 100 Competitors
Share:
Posted Mar 2, 2021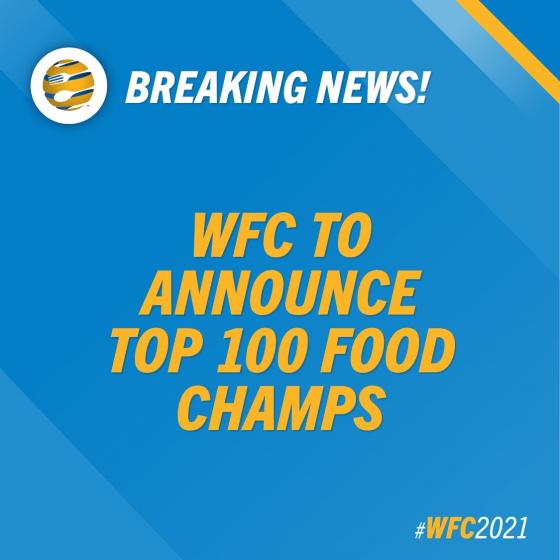 As the 9th annual World Food Championships approaches, Food Champs from all over the world are practicing their recipes and techniques as they prepare for the biggest food fight of 2021. Not only with they have to master three culinary challenges to achieve their goal, but in the process, they'll have to beat out numerous other award-winning food champions.
As the field gets set for this annual competition, the largest in the world of Food Sport, more than 400 teams from around the world will descend upon Dallas for their chance at a $350,000 prize purse. To help shed light on the level of talented chefs and cooks in the field, WFC will be releasing its annual list of the highest rank competitors very soon.
WFC's ranking system uses a special algorithm to quantify each competitor's world ranking. The system calculates 20 key parameters such as cooking background, competition victories and culinary experiences. The leader in Food Sport plans to unveil its initial 2021 list of Top 100 Food Champs on March 11.
Want to find out how you rank? Check out the steps below:
New WFC Competitor: If you have already won a Golden Ticket to compete at WFC 2021, your first step is to register for its Main Event by clicking here. After completing your registration and champ profile, please fill out your Food Champ Ranking Profile. (See photo for reference).
Already have an account? If you already have a competitor profile, you must first be registered for the 2021 event.* Once you've completed your registration, update your Food Champ Ranking Profile with your latest accomplishments. If you have already completed your registration for 2021, then you'll need to simply log into your competitor profile and update the Food Champ Ranking Section only. (See photo for reference). Start by logging into your account here.
*Please note: If you already have a competitor profile but are not registered to compete in 2021, you will not appear on the leaderboard. Be prepared to answer questions about your 1st-10th place rankings in all former competitions. In order for these to be accurate, you must answer honestly and thoroughly!
Our staff will then review your profile and either approve or ask for clarifications by the next release of the rankings, which will be updated each Wednesday at Noon CST. To be included in the Top 100 Food Champ announcement on March 11, competitors are encouraged to update their profile by March 7.
In the meantime, mark your calendar for WFC 2021 at Fair Park in Dallas, Texas, Nov. 5-9.
Stay up-to-date on all things Food Sport, follow the World Food Championships on Twitter (@WorldFoodChamp), Facebook and Instagram (@WorldFoodChampionships).
About World Food Championships
The World Food Championships (WFC) is the highest stakes food competition in the world. This multi-day, live event culinary competition showcases some of the world's best cooks who compete for food, fame and fortune in 10 categories (Bacon, Barbecue, Burger, Chef, Dessert, Recipe, Sandwich, Seafood, Soup and Steak). In 2019, more than 450 culinary teams from 11 countries and 42 American states competed in WFC's Main Event. In August, the 10 Category Champs went head-to-head for a $100,000 bonus that determined a new World Food Champion in a TV special called The Final Table: Indianapolis. While contestants have to earn their way into WFC by winning a Golden Ticket at a previous competition, potential judges are welcome to take WFC's online certification course that explains the E.A.T. methodology. Certified judges then request and receive available seats at the next scheduled WFC event. Click here to learn more about getting certified.
« Back to News