9th Annual World Food Championships Will Feature Bull Grills In Outdoor Arena
Share:
Posted Feb 12, 2021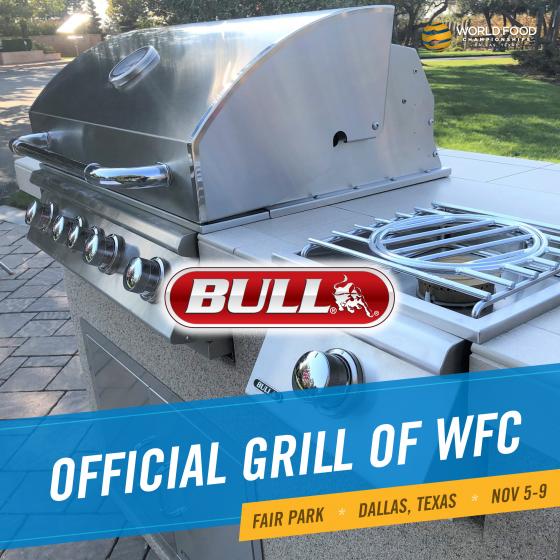 The 2021 World Food Championships' (WFC) Main Event may be moving indoors to the State Fairgrounds in Texas this year, but there will still be plenty of outdoor activity for food fans thanks to strategic sponsors like Bull Outdoor Products, a long-standing and well-known player in the Food Sport arena.
With the Ultimate Food Fight moving indoors for the first time since its 2012 inception, WFC will feature Bull in the event's new outdoor Grill Arena, where competitors will have key grilling equipment to finish off their entries.
"As an industry leader in the manufacturing of Premium BBQ Grills and Outdoor Kitchens, Bull Outdoor Products is one of the best partners we have ever had in Food Sport," said Mike McCloud, President and CEO of WFC. "Their passion and top-notch equipment have helped our champs make thousands of championship-caliber dishes in every category of our championship for years. The Grill Arena will be an outstanding destination for all grilling/food enthusiasts as we conduct demos and competition moments there."
In order to provide easy access for competitor teams who want to use a grill, the Grill Arena will be located in a portico area adjacent to Centennial Hall, which is where WFC's Main Event will unfold in a new, high-tech and spectator-friendly Kitchen Arena. While all of WFC's categories will have the option to use a grill if needed, the Top 10 Finals for Barbecue, Steak and Burger will be staged in the Grill Arena, where more than $100,000 worth of Bull's premium, three-burner grills will be featured.
The Ultimate Food Fight is set to take place in Dallas, November 5-9. Ticketing options for the foodie event will be released by July 1st. If you'd like to be one of the first to be notified when tickets go on sale, click here.
In the meantime, stay up-to-date on all things Food Sport, follow the World Food Championships on Twitter (@WorldFoodChamp), Facebook and Instagram (@WorldFoodChampionships).
About World Food Championships
The World Food Championships (WFC) is the highest stakes food competition in the world. This multi-day, live event culinary competition showcases some of the world's best cooks who compete for food, fame and fortune in 10 categories (Bacon, Barbecue, Burger, Chef, Dessert, Recipe, Sandwich, Seafood, Soup and Steak). In 2019, more than 450 culinary teams from 11 countries and 42 American states competed in WFC's Main Event. In August, the 10 Category Champs went head-to-head for a $100,000 bonus that determined a new World Food Champion in a TV special called The Final Table: Indianapolis. While contestants have to earn their way into WFC by winning a Golden Ticket at a previous competition, potential judges are welcome to take WFC's online certification course that explains the E.A.T. methodology. Certified judges then request and receive available seats at the next scheduled WFC event. Click here to learn more about getting certified.
« Back to News