Bolner's Fiesta Brand Continues To Add Flavor To Food Sport's Biggest Event
Share:
Posted Jan 29, 2021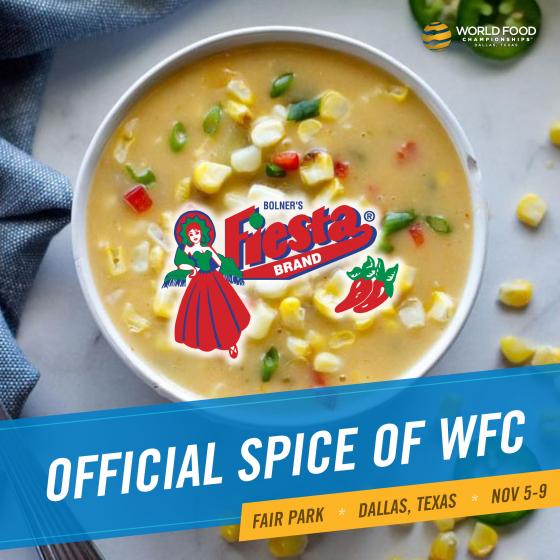 The world's largest Food Sport event, World Food Championships (WFC), is welcoming back Texas-based Bolner's Fiesta Products, Inc. as the Official Spice of its 9th Annual Main Event. Being no stranger to WFC's Kitchen Arena, Bolner's will provide a selection of its most popular specialty seasonings for competitors to utilize as they battle for the event's $350,000 prize purse.
"Bolner's has been a great Food Sport partner and contest favorite at WFC for several years," said Mike McCloud, President and CEO of WFC. "Our competitors trust this brand and love to experiment with it in their culinary creations. We appreciate their continued support and look forward to seeing them integrated into this year's tournament."
Since 1955, the Bolner family has been purchasing spices from around the world and has prided itself in being a family-owned and operated company. Today, the company imports spices from more than 60 countries and offers over 600 products.
"The World Food Championships has been a wonderful ambassador for our Brand. It is thrilling each year to watch the incredibly talented competitors utilize our products in such creative and unique ways," said Liz Curtis, Marketing Representative of Bolner's. "We are excited to finally be back on the competition stage in 2021 and look forward to what challenges and creations arise in this year's contest!"
Along with serving as the event's Official Spice, Bolner's will be spicing up WFC's Soup division as an Official Category Sponsor. Soup competitors will be required to use Bolner's quality products in both the Structured Build portion of the Opening Round and Top Ten Round.
On July 1st, WFC will release a 2021 Tournament Chart, which confirms the competition's Structured Build and Infusion requirements for each of the ten categories.
The Ultimate Food Fight is set to take place at Fair Park in Dallas, Nov. 5-9. Ticketing options for the foodie event will be released in the coming months. If you'd like to be one of the first to be notified when tickets go on sale, email info@worldfoodchampionships.com.
Stay up-to-date on all things Food Sport, follow the World Food Championships on Twitter (@WorldFoodChamp), Facebook and Instagram (@WorldFoodChampionships).
About World Food Championships
The World Food Championships (WFC) is the highest stakes food competition in the world. This multi-day, live event culinary competition showcases some of the world's best cooks who compete for food, fame and fortune in 10 categories (Bacon, Barbecue, Burger, Chef, Dessert, Recipe, Sandwich, Seafood, Soup and Steak). In 2019, more than 450 culinary teams from 11 countries and 42 American states competed in WFC's Main Event. In August, the 10 Category Champs went head-to-head for a $100,000 bonus that determined a new World Food Champion in a TV special called The Final Table: Indianapolis. While contestants have to earn their way into WFC by winning a Golden Ticket at a previous competition, potential judges are welcome to take WFC's online certification course that explains the E.A.T. methodology. Certified judges then request and receive available seats at the next scheduled WFC event. Click here to learn more about getting certified.
« Back to News