The World Food Championships Partners With TasteAtlas
Share:
Posted Jan 28, 2021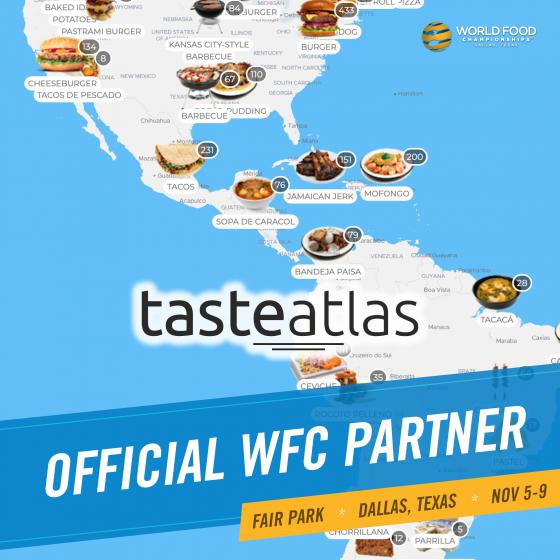 The international chefs and home cooks that score the highest in the World Food Championships (WFC) annual event will now receive additional accolades as official "TasteAtlas Winners" thanks to a new marketing partnership.
TasteAtlas is a website that serves as an encyclopedia of authentic dishes and/or restaurants around the globe, researched and cataloged by the TasteAtlas Team. The site currently shares more than 10,000 foods and drinks but also notes the thousands yet to be discovered.
In the coming months, WFC and TasteAtlas plan to host an online voting competition that will send a world favorite dish or restaurant to Dallas for the Main Event. Additionally, WFC's Food Sport Nation restaurant list will be integrated into the TasteAtlas platform.
"One of our resolutions is to expand our international impact for worthy #FoodChamps and their restaurants, so partnering with a global company like TasteAtlas is an ideal opportunity for that," said Mike McCloud, President and CEO of WFC. "We are eager to see how this can elevate the many worthy chefs, cooks and menus that we seek to celebrate each year."
To stay up-to-date on all things Food Sport, follow the World Food Championships on Twitter (@WorldFoodChamp), Facebook and Instagram (@WorldFoodChampionships).
About World Food Championships
The World Food Championships (WFC) is the highest stakes food competition in the world. This multi-day, live event culinary competition showcases some of the world's best cooks who compete for food, fame and fortune in 10 categories (Bacon, Barbecue, Burger, Chef, Dessert, Recipe, Sandwich, Seafood, Soup and Steak). In 2019, more than 450 culinary teams from 11 countries and 42 American states competed in WFC's Main Event. In August, the 10 Category Champs went head-to-head for a $100,000 bonus that determined a new World Food Champion in a TV special called The Final Table: Indianapolis. While contestants have to earn their way into WFC by winning a Golden Ticket at a previous competition, potential judges are welcome to take WFC's online certification course that explains the E.A.T. methodology. Certified judges then request and receive available seats at the next scheduled WFC event. Click here to learn more about getting certified.
« Back to News