WFC Adds Sizzle to Bacon Category with Beeler's Pure Pork
Share:
Posted Jan 28, 2021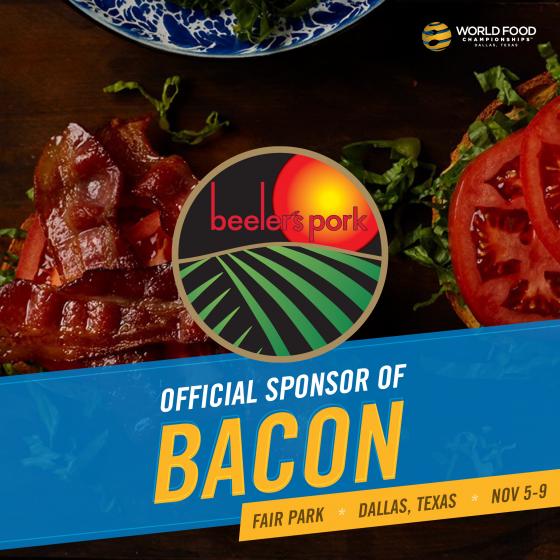 The world's largest food sport event, World Food Championships (WFC), is welcoming Beeler's Pure Pork as the Official Bacon Partner at its 9th Annual Main Event this November. The six-generation family-owned farm will be supplying high quality and minimally processed bacon for all WFC competitors.
Along with serving as the Official Bacon Partner, Beeler's product will also be the required ingredient in the Bacon World Championship's structure build portion of the Opening Round, where up to 40 teams will be creating their best hors d'oeuvres using Beeler's antibiotic-free bacon.
"One of our ongoing objectives is to incorporate local, regional and global brands in our annual championship. Having this six-generation Iowa family farm join our sponsor roster is a perfect way to underscore that commitment," said Mike McCloud, President and CEO of WFC. "Our talented chefs and cooks love working with new products and brands, and they will truly enjoy working with Beeler's pork products."
Beeler's has always made it a top priority to raise their pigs humanely, and they are proud to offer antibiotic free, gluten free pork products. Their sows are housed in unrestricted pens, and Beeler's pigs are fed a vegetarian diet with no animal byproducts.
"Above all else, we pride ourselves on the exceptional quality and taste of our products," said Nissa Beeler, Vice President of Beeler's Pure Pork. "We have refined our genetics to produce pork with superior natural flavor , so you'll see minimal ingredients added to our products. Quite possibly the best-tasting pork products on the planet!"
Beeler's has created a coupon code for 10% off orders of $100 or more on its website using the code "WFC2021." Click here to start shopping.
To stay up-to-date on all things Food Sport, follow the World Food Championships on Twitter (@WorldFoodChamp), Facebook and Instagram (@WorldFoodChampionships).
About World Food Championships
The World Food Championships (WFC) is the highest stakes food competition in the world. This multi-day, live event culinary competition showcases some of the world's best cooks who compete for food, fame and fortune in 10 categories (Bacon, Barbecue, Burger, Chef, Dessert, Recipe, Sandwich, Seafood, Soup and Steak). In 2019, more than 450 culinary teams from 11 countries and 42 American states competed in WFC's Main Event. Then the 10 Category Champs went head-to-head for a $100,000 bonus that determined a new World Food Champion in a TV special called The Final Table: Indianapolis. While contestants have to earn their way into WFC by winning a Golden Ticket at a previous competition, potential judges are welcome to take WFC's online certification course that explains the E.A.T. methodology. Certified judges then request and receive available seats at the next scheduled WFC event. Click here to learn more about getting certified.
« Back to News