Burger Competitors Will Face Off In Inaugural Impossible Foods Challenge
Share:
Posted Jan 19, 2021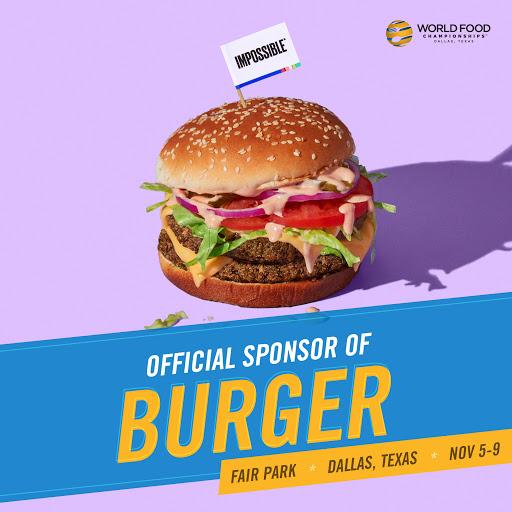 The 9th Annual World Food Championships (WFC) will present burger competitors with a challenge unlike any before, thanks to the addition of the category's official sponsor, Impossible Foods. WFC competitors will engage in a culinary face-off featuring the award-winning Impossible™ Burger at the center of the plate.
For the first time in WFC history, all burgers in the Structured Build and Top Ten rounds of the burger championship will require plant-based patties.
During the Opening Round, the Structured Build will be an "Impossible™ Southwest Chili Cheeseburger," in which all 40 teams will be required to use Impossible Foods' delicious, nutritious, and sustainable meat made from plants to create burger patties paired with chili. An example of a Southwest Chili Cheeseburger might be topped with a plant-based cheese, green chili, sweet corn relish, crispy tortilla strips and a potato bun, all of which achieve the goal of a completely plant-based build.
While WFC encourages competitors to build something completely plant-based, it is not required, as long as the dish remains vegetarian. For example, WFC encourages competitors to use plant-based cheese but using a dairy cheese will not affect scoring as long as the burger is vegetarian.
In the Top Ten Round, Boulevard Beer will be required as an Infusion, with Impossible Burger patties serving as the burger base. For Food Champs looking to experiment and practice with this meat made from plants at home, Impossible Foods' convenient and versatile 12-ounce retail product and pre-formed, quarter-pound (4-ounce) patty packages are now available in over 2,000 Walmart stores nationwide.
WFC 2021 Burger Competitors will receive detailed tournament information in their competitor packets, which is set to be released on or before August 1st.
"We know that plant-based products are trending in the food space, and that's why we highlighted plant-based builds in one of our other categories last year," said Mike McCloud, President and CEO of WFC. "But to have a well-known and expected brand like Impossible Foods in the tournament now, that's something we truly look forward to seeing how Food Champs will utilize in their burger builds."
Impossible Foods was founded with the mission to create a more sustainable food system by making delicious and nutritious meat from plants – with a much smaller environmental footprint than meat from animals. The company's flagship product is the Impossible Burger, which looks, cooks and tastes like ground beef from cows, but is made from plants.
Key ingredients in the Impossible Burger are soy protein, potato protein, sunflower oil, coconut oil, and heme–which is an iron-containing molecule that is found in all living things, including both plants and animals, and is what makes meat taste and look like meat. Impossible Burger delivers as much protein and bioavailable iron as animal-derived beef.
Impossible Burger contains no animal hormones or antibiotics, and is kosher, halal and gluten-free certified. Because the Impossible Burger is made from plants, it has 0 mg cholesterol (14g total fat, 8g saturated fat) per serving. Compared to ground beef from cows, Impossible Burger has a tiny environmental footprint, using 96% less land, 87% less water and generating 89% less greenhouse gas emissions.
To stay up-to-date on all things Food Sport, follow the World Food Championships on Twitter (@WorldFoodChamp), Facebook and Instagram (@WorldFoodChampionships).
About World Food Championships
The World Food Championships (WFC) is the highest stakes food competition in the world. This multi-day, live event culinary competition showcases some of the world's best cooks who compete for food, fame and fortune in 10 categories (Bacon, Barbecue, Burger, Chef, Dessert, Recipe, Sandwich, Seafood, Soup and Steak). In 2019, more than 450 culinary teams from 11 countries and 42 American states competed in WFC's Main Event. In August, the 10 Category Champs faced-off in the $100,000 challenge that determined a new World Food Champion at The Final Table: Indianapolis.
« Back to News