Taste of America Recipe Contest Seeks Best Cooks In America
Share:
Posted Jan 19, 2021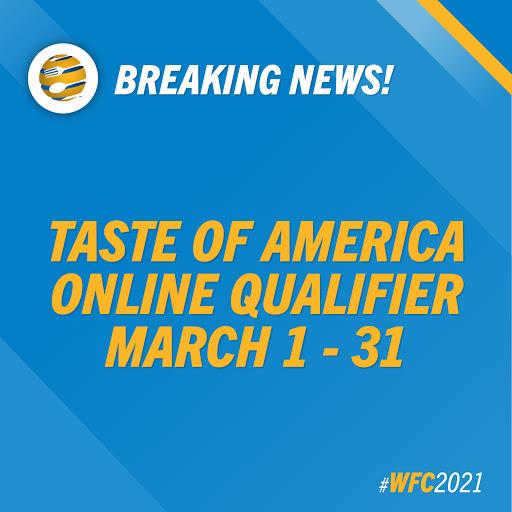 UPDATED: FEB. 5TH

The World Food Championships (WFC), just announced the return of its Taste of America (TOA) online recipe contest in March. Now in its sixth year, TOA is the primary virtual gateway for cooks of all types, professional or amateur, to earn a competition spot in the largest annual cooking competition in the world.
TOA will qualify 30 winners to compete at WFC, which features 10 categories of food competition. Entries will be accepted from March 1 to March 31, 2021, and will be judged by a culinary ambassador council using WFC's E.A.T.™ judging methodology. The winners will have the ability to compete in the remaining open categories at WFC, which include Bacon, Burger, Recipe and Sandwich.
TOA participants will be required to submit recipes that represent the category in which they hope to compete in at the 9th Annual World Food Championships, which will occur Nov. 5-9 at Fair Park in Dallas, Texas. For example, someone hoping to grab one of the remaining qualifications into the World Burger Championship should submit their very best burger creation. A limited number of spots exist in each category.
"Most of our competitors from the canceled 2020 event have already claimed their spots in 2021. But we do have some availability in these five remaining categories, so it's the perfect chance for up and coming cooks, pro teams or chefs to join what we call The Ultimate Food Fight," said Mike McCloud, President & CEO of WFC. "At stake is not only the bragging rights of becoming the best in the world in a particular category, but more than $350,000 is up for grabs as we reward the best cooking performances at the tournament."
Official rules and regulations regarding the Taste of America contest will be published in February on worldfoodchampionships.com.
To stay up-to-date on all things Food Sport, follow the World Food Championships on Twitter (@WorldFoodChamp), Facebook and Instagram (@WorldFoodChampionships).
About World Food Championships
The World Food Championships (WFC) is the highest stakes food competition in the world. This multi-day, live event culinary competition showcases some of the world's best cooks who compete for food, fame and fortune in 10 categories (Bacon, Barbecue, Burger, Chef, Dessert, Recipe, Sandwich, Seafood, Soup and Steak). In 2019, more than 450 culinary teams from 11 countries and 42 American states competed in WFC's Main Event. In August, the 10 Category Champs faced-off in the $100,000 challenge that determined a new World Food Champion at The Final Table: Indianapolis. While contestants have to earn their way into WFC by winning a Golden Ticket at a previous competition, potential judges are welcome to take WFC's online certification course that explains the E.A.T. methodology. Certified judges then request and receive available seats at the next scheduled WFC event. Click here to learn more about getting certified.
« Back to News