Hassell Cattle Beefs Up the Steak Category
Share:
Posted Jan 13, 2021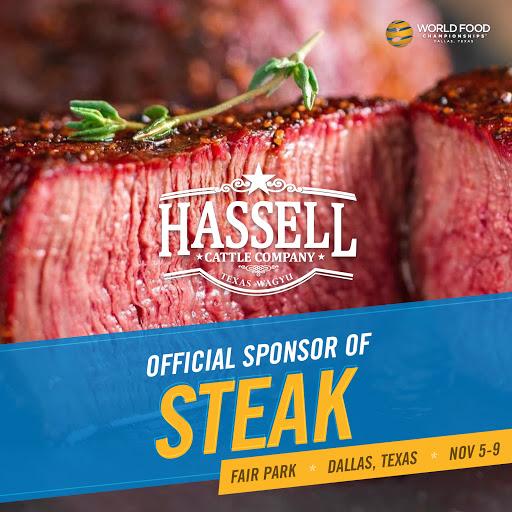 Hassell Cattle Company is back for another year of Food Sport action to beef up the Steak Category like never before at the 9th annual World Food Championships (WFC). In 2019, Hassell Cattle's booth was a fan favorite as they let Food Champs cook up a variety of their tasty products to share with attendees. They also provided beautiful, marbled Wagyu Ribeye steaks for all 40 Steak competitors.
This year, the company will be providing its Wagyu New York Strips to the Opening Round of the Steak Category AND its Filet Mignon to the Top Ten round of the Steak Category and will be seen in many areas of WFC's programming.
"We are proud to be involved with WFC, the greatest Food Sport organization, again this year," said Doug Hassell, Owner of Hassell Cattle Company.
For three generations the Hassell family ranch has been owned and operated in Rusk, Texas, creating the famous phrase "Blue Collar Wagyu." Additionally, their main priority is raising 100% hormone and antibiotic-free beef. The company offers a wide variety of cuts of meat from beef bacon, franks, chili meat, brisket, roast, fajita, and of course the classics – ribeye, New York strip, ground beef and short rib. They also sell delicious snacks such as meat sticks and jerky.
"We seek sponsors at WFC that we are truly proud of their product and processes, and that is certainly true with Hassell Cattle Company," said Mike McCloud, President and CEO of WFC. "Not only do they supply some of the best tasting steaks in the state of Texas, but their growth over the last year has been incredible to see."
To purchase Hassell Cattle Company products visit their website at www.HassellCattleCompany.com. All WFC fans and competitors can receive a 10% discount by using the code WFC10 at checkout!
To stay up-to-date on all things Food Sport, follow the World Food Championships on Twitter (@WorldFoodChamp), Facebook and Instagram (@WorldFoodChampionships).
About World Food Championships
The World Food Championships (WFC) is the highest stakes food competition in the world. This multi-day, live event culinary competition showcases some of the world's best cooks who compete for food, fame and fortune in 10 categories (Bacon, Barbecue, Burger, Chef, Dessert, Recipe, Sandwich, Seafood, Soup and Steak). In 2019, more than 450 culinary teams from 11 countries and 42 American states competed in WFC's Main Event. In August, the 10 Category Champs faced-off in the $100,000 challenge that determined a new World Food Champion at The Final Table: Indianapolis.
« Back to News