Gourmet Pepper Added To Seafood Challenge at WFC
Share:
Posted Jan 11, 2021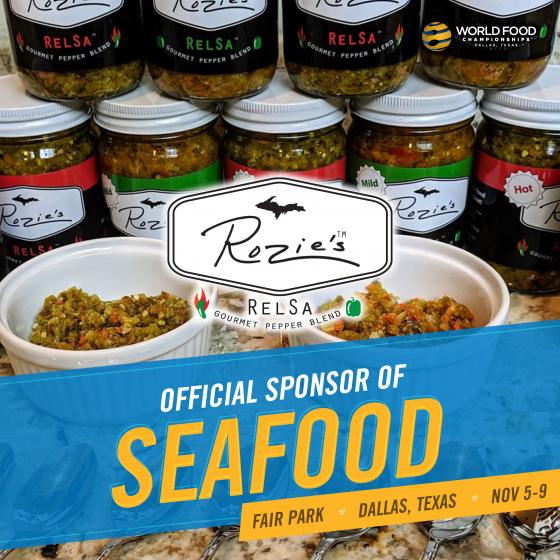 The World Food Championships (WFC) just announced that its Seafood Champs at the Main Event in 2021 will face a unique and flavorful cooking challenge in the Top Ten Infusion Round.
Rozie's RelSa will be the newest sponsor of the Seafood Championship, which is one of ten categories at WFC. This gourmet pepper blend will be a required ingredient in the Top Ten Infusion Round, where WFC will reward and crown the next Seafood Champion.
Rozie's RelSa is made with naturally grown products including fresh peppers, carrots, celery, cauliflower, oil, garlic, and spices. It can be used as anything from a dip for your favorite crackers to a fresh topping on any protein coming hot off the grill.
The creator of this delicious pepper blend, Rozie, has always been passionate about gardening and canning. In 2000 her curiosity on how certain products in her garden would taste blended together led to her now famous RelSa. She created the mild version to enhance the flavor of all types of foods, as well as a hot version to spice things up a bit and provide a powerful burst of flavor.
"We are so excited to begin working with the leaders in Food Sport," said Rosie Pietila, owner of Rozie's Foods. "We can't wait to see the elaborate Seafood recipes made using Rozie's RelSa."
After perfecting her recipe, Rozie discovered her pepper blend made classic dishes like tuna fish sandwiches and pizza simply taste better. What started as a simple recipe can now be purchased in over 50 stores throughout Michigan and Wisconsin. It will be making its global debut in November at the 9th Annual World Food Championships in Dallas, Texas.
To stay up-to-date on all things Food Sport, follow the World Food Championships on Twitter (@WorldFoodChamp), Facebook and Instagram (@WorldFoodChampionships).
About World Food Championships
The World Food Championships (WFC) is the highest stakes food competition in the world. This multi-day, live event culinary competition showcases some of the world's best cooks who compete for food, fame and fortune in 10 categories (Bacon, Barbecue, Burger, Chef, Dessert, Recipe, Sandwich, Seafood, Soup and Steak). In 2019, more than 450 culinary teams from 11 countries and 42 American states competed in WFC's Main Event. In August, the 10 Category Champs went head-to-head for a $100,000 bonus that determined a new World Food Champion in a TV special called The Final Table: Indianapolis. While contestants have to earn their way into WFC by winning a Golden Ticket at a previous competition, potential judges are welcome to take WFC's online certification course that explains the E.A.T. methodology. Certified judges then request and receive available seats at the next scheduled WFC event. Click here to learn more about getting certified.
« Back to News