World Open Chili Makes A Return
Share:
Posted Dec 29, 2020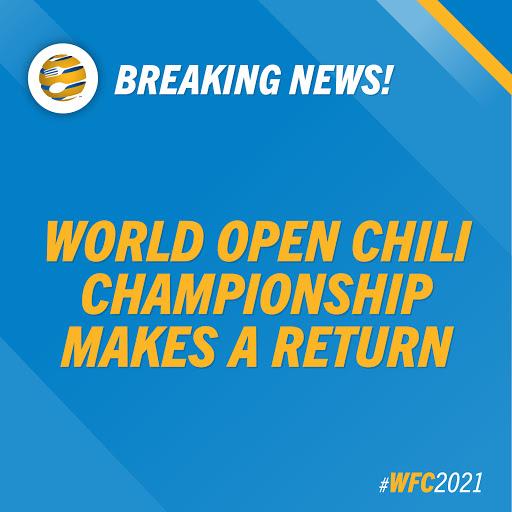 Can we get back to Food Sport yet?! We know you're itching to be in Kitchen Arena once again doing what you do best – cooking beautiful dishes and winning money while you're at it! We get it, so we could not be more pleased to share this opportunity with you.
For the first time in International Chili Society (ICS) history, you don't have to be a chili pro to compete at the World Championship Chili Cook-Off (WCCC) in Myrtle Beach, SC — thanks to the new World Open Chili category.
As World Food Championships (WFC) competitors know, World Open Chili was formerly a category at the Main Event for years. This category allowed chili cooks, pro chefs and home cooks to focus on making their best chili creation outside the confines of a traditional, sanctioned chili cook-off. Competitors were allowed to be creative with their dishes and impress judges who used the E.A.T.™ Methodology, WFC's proprietary scoring system.
In 2020, World Open Chili was replaced with the Soup category. But, MMA Creative, the contest organizers of WFC weren't quite done with Chili. As a matter of fact, this past March, MMA Creative purchased ICS and WCCC in its 54th year of existence.
"Chili has always been and will always be near and dear to our hearts. If you've ever been to a chili cook-off, you've seen first-hand the passion these cooks have for chili. It only made sense for us to welcome chiliheads into our Food Sport family," said Mike McCloud, President and CEO of WFC and ICS.
So … what do you have to do to compete at WCCC in September? Easy! Just sign up!
Click here and complete the registration form.
Space is limited in the World Open, so don't delay. Each competitor will receive a 10x10 tented cooking space, a table and two chairs. Similar to the Pro Chili division, all cooks will be required to bring their own ingredients and cooking apparatus (propane burner), and utensils. There is a $50 registration fee for entering into the World Open Chili division. A contest representative will reach out directly to each entrant for payment.
The World Open division will occur Saturday, Sepetmber 18th. Competition hours, rules and regulations will be emailed to each registered Open competitor in January. The prize purse for the World Open Chili is $2,250. And, perhaps best of all, the Open division at WCCC is a qualifying event for WFC 2021 in Dallas.
"This has been a tough year for live cooking competitions. We are excited to offer the World Open Chili as a qualifying event for WFC 2021," said McCloud. "With many categories having already been filled, this qualifier will be one of the few available for 2021."
In addition to the best chili in the world, WCCC will offer a wide variety of family-friendly activities such as a beer garden, a stage showcasing musical acts, including Season 17 winner of The Voice Jake Hoot; a hot pepper eating contest; and many more activities –– making it the perfect place for foodie friends to reunite. We hope to see you there!!
To stay up-to-date on all things Food Sport, follow the World Food Championships on Twitter (@WorldFoodChamp), Facebook and Instagram (@WorldFoodChampionships).
About World Food Championships
The World Food Championships (WFC) is the highest stakes food competition in the world. This multi-day, live event culinary competition showcases some of the world's best cooks who compete for food, fame and fortune in 10 categories (Bacon, Barbecue, Burger, Chef, Dessert, Recipe, Sandwich, Seafood, Soup and Steak). In 2019, more than 450 culinary teams from 11 countries and 42 American states competed in WFC's Main Event. In August, the 10 Category Champs faced-off in the $100,000 challenge that determined a new World Food Champion at The Final Table: Indianapolis.
« Back to News