WFC Scores Foodservice Equipment Provider For Main Event
Share:
Posted Dec 8, 2020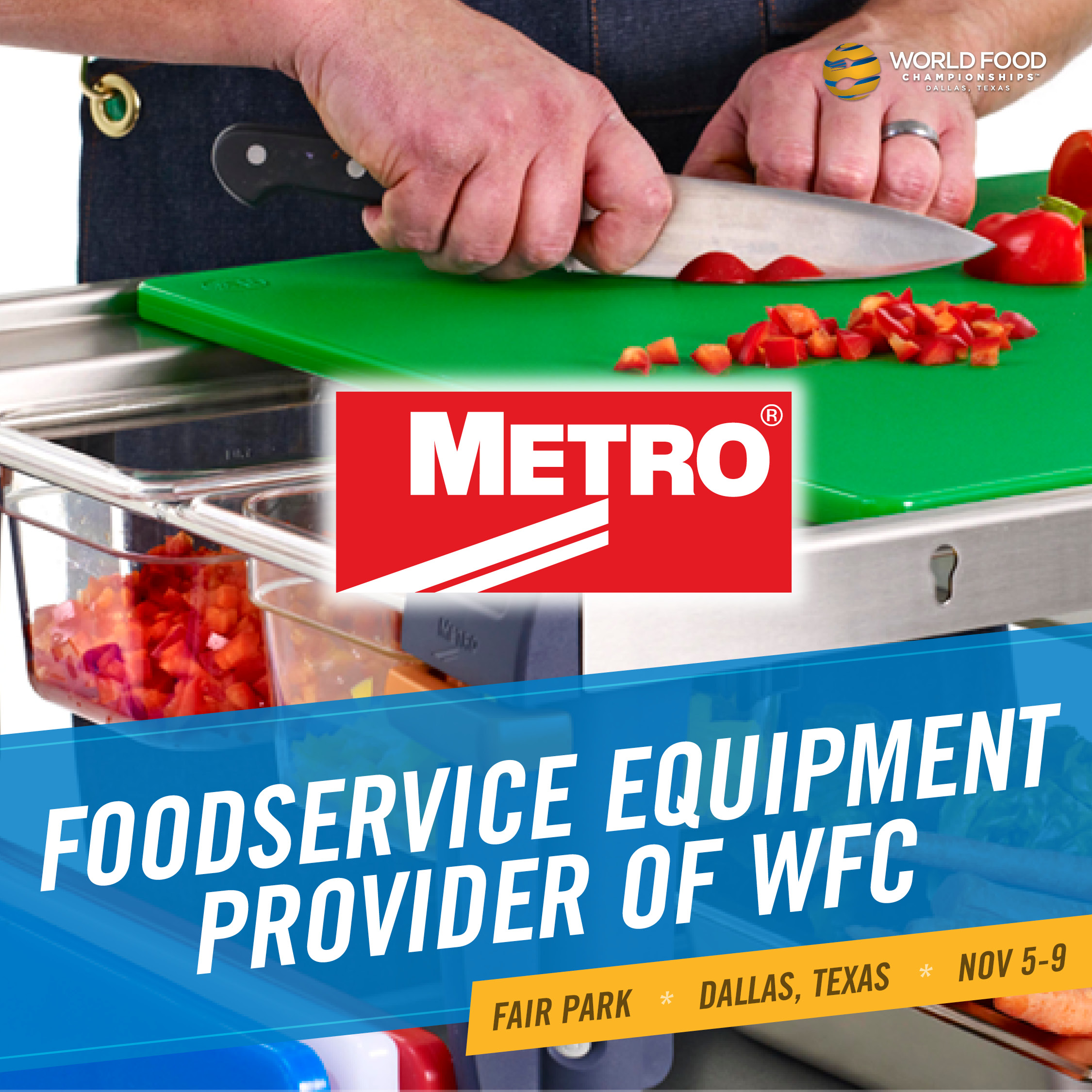 The World Food Championships (WFC) continues to develop strategic partnerships for its next event in Dallas, Texas and recently announced its newest relationship with Intermetro Industries, also known as Metro.
Metro, who will make its Food Sport debut in November 2021, will play a pivotal role in the tournament as a key equipment provider. This partnership ensures an extra level of efficiency for competitors as they battle it out at the Ultimate Food Fight. WFC competitors know a little something about efficiency being challenged with complex dishes using unlikely infusions, all while racing the clock. And Metro knows the importance of optimizing a workspace to be as productive as possible, making this brand a great fit for WFC.
"We are excited to be part of this amazing event. Our hope is that each competitor will benefit from the efficiency gains of using one of our latest innovations…a PrepMate MultiStation. Putting space to work in the most efficient manner has always been at the core of the Metro mission. Now, the most competitive Chefs in the world will get a hands on demonstration," said A.J. Zambetti, Director of Creative and Brand Communication for Metro.
All 40 cook stations in WFC's Kitchen Arena will be outfitted with a Metro PrepMate MultiStation. This versatile piece allows cooks to adjust the station's height for perfect ergonomics. This multi-level table has the space and accessories to accommodate each cooks' tools and supplies. Perhaps best of all, the PrepMate is mobile. Cook's can wheel their prepped items wherever they need them next, saving them precious time. Metro personnel will be on-site to answer any questions competitors have about this innovative product.
In addition to being front and center in Food Sport's largest kitchen, Metro will also play a big role behind the scenes. Metro will provide essential 'back of house' drying and transport racks that will allow WFC to quickly reset Kitchen Arena between competitions.
"Metro has an outstanding reputation in the foodservice industry as a manufacturer of quality products that help professional kitchens run smoothly. We are excited to have them on board and can't wait to see our competitors' reaction to the PrepMate," said Mike McCloud, President and CEO of the World Food Championships.
One lucky Food Sport fan won't have to wait until November to become more familiar with WFC's newest sponsor. Metro will also be featured sponsor in WFC's first-ever 12 Days of Giving Sweepstakes. One of the prizes up for grabs is the PrepMate MultiStation. Learn more about the sweepstakes by following WFC on social media.
Stay up-to-date on all culinary competition news, by following the World Food Championships on Twitter (@WorldFoodChamp), Facebook and Instagram (@WorldFoodChampionships).
About World Food Championships
The World Food Championships (WFC) is the highest stakes food competition in the world. This multi-day, live event culinary competition showcases some of the world's best cooks who compete for food, fame and fortune in 10 categories (Bacon, Barbecue, Burger, Chef, Dessert, Recipe, Sandwich, Seafood, Soup and Steak). In 2019, more than 450 culinary teams from 11 countries and 42 American states competed in WFC's Main Event. In August, the 10 Category Champs faced-off in the $100,000 challenge that determined a new World Food Champion at The Final Table: Indianapolis.
« Back to News