The World Food Championships Cancels 2020 Main Event
Share:
Posted Aug 28, 2020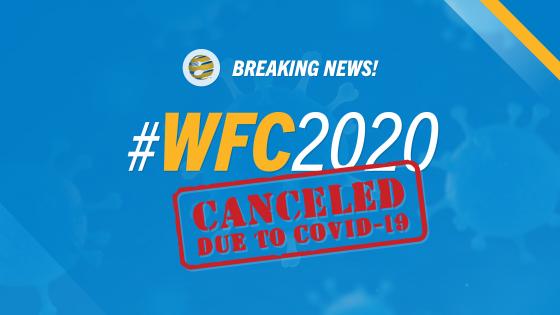 After months of pandemic protocol planning and a fervent hope to conduct the 9th Annual World Food Championships (WFC), organizers of Food Sport's biggest event have announced the need to actually cancel WFC2020, which was scheduled to take place this fall in Dallas, Texas.
"This is not the announcement we wanted to make," said Mike McCloud, President/CEO of WFC. "We have spent countless hours studying how to conduct our championship safely and appropriately in a pandemic situation. But the persistence and continued unpredictability of COVID-19 has left us no choice. It's a safer and more appropriate decision for everyone involved for us to call off the event and start planning in earnest for 2021."
McCloud went on to say that, ultimately, the deciding factor was the health and safety of the Food Sport community, partners, staff and the multitude of foodies that gather together to make WFC the event that so many people look forward to attending each year. After monitoring the COVID-19 situation for months, WFC realized that there is still too much uncertainty about how it could impact the thousands of people who would come out to see or participate in the event, he said.
"In many places, in many ways, the virus continues to spike and flare up. Even in other major professional sports, where the utmost safety protocols are being implemented, the virus simply can't be stomped out yet," McCloud commented. "And since hundreds of teams and judges would be traveling to Dallas from all over the nation and some parts of the world, we simply think that our fun and exciting event could be overshadowed by unfortunate spread or flare ups as we head into the fall season. That's a heavy burden we do not want to thrust upon our industry or our staff."
The WFC staff is now communicating with teams, judges and sponsors to discuss alternative measures as it relates to fees and continued involvement in the WFC platform. For example, WFC will now host a $25,000 virtual contest for all 2020 registered contestants, as well as launch a robust marketing campaign to keep Food Sport alive and growing with fun integrations for all existing WFC sponsors.
For any competitor who wants to unregister or defer qualification/involvement, there will be options for that as well. In fact, for those that choose to transfer 2020 participation into the 2021 event, no action is required. Your registration and qualification will carry over, plus your team will be eligible to win cash and prizes in WFC's virtual contest. Contest rules and challenges will be announced in the next few weeks.
For refunds or other questions, however, please email chelsea@mmacreative.com prior to Oct 1, 2020 to take advantage of the extended competitor refund policy. Anyone who has already made Dallas hotel accommodations through the WFC host hotel for this fall, WFC is pleased to announce that no penalties will be assessed for cancellations. However, it is the responsibility of each contestant or judge to reach out to his or her own hotel and make the cancellation. Special event ticket holders will receive an automatic refund of their ticket purchases.
The 9th Annual WFC will now occur November 5th - 9th, 2021, and it is once again scheduled to occur at Fair Park in Dallas, Texas. By choosing Fair Park, WFC is embarking on its first ever indoor tournament, which will allow control over weather and humidity factors like never before. Additional attractions will still include outdoor cooking zones and entertainment like BBQ Ranch, Bull Arena, and United Steaks of America. More info on these attractions and opportunities will be released in the fall.
"We want to thank our entire Food Sport family, from competitors to sponsors, for the unwavering support we've experienced this year. We were thrilled to be able to conduct our Final Table in Indianapolis, where we crowned our 8th World Champion. Now, as we set our sights on the next season of Food Sport, we will start taking a hard look at all facets of our championship platform and launch initiatives that will continue building on the momentum we've enjoyed these past few years," McCloud stated.
"In the meantime, our thoughts will continue to be with those in the Restaurant and Hospitality industry who make up a large portion of our Food Sport community and who have been greatly impacted by this virus," McCloud added. "It is our prayer that 2021 will bring health, healing, better control and/or eradication of COVID-19, and certainly a year of normalcy that we all so desperately crave for our families and Food Sport."
Tune into the Cooking Channel on October 3rd, 2020 to see how the 8th Annual Final Table contestants performed in Indianapolis. The show, called "Final Table: Indy", will air on the Cooking Channel for the first time. Stay connected to WFC's social media to find out exactly what time the one-hour special will air.
For all other Food Sport and WFC updates, simply follow the World Food Championships on Twitter (@WorldFoodChamp), Facebook and Instagram (@WorldFoodChampionships).
About World Food Championships
The World Food Championships (WFC) is the highest stakes food competition in the world. This multi-day, live event culinary competition showcases some of the world's best cooks who compete for food, fame and fortune in 10 categories (Bacon, Barbecue, Burger, Chef, Dessert, Recipe, Sandwich, Seafood, Soup and Steak). In 2019, more than 450 culinary teams from 11 countries and 42 American states competed in WFC's Main Event. In August, the 10 Category Champs faced-off in the $100,000 challenge that determined a new World Food Champion at the "Final Table: Indy". The 8th Annual World Food Champion will be revealed Oct. 3rd on the Cooking Channel.
« Back to News