La Lechonera Brings "Mojo" Flavor With WFC 2021 Virtual Qualifier
Share:
Posted Aug 20, 2020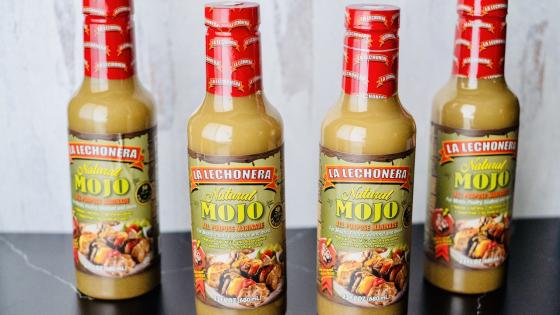 The world's largest Food Sport event, World Food Championships (WFC), has partnered with La Lechonera to create a virtual qualifying opportunity for its 2021 Ultimate Food Fight. The Spanish Marinade company isn't new to the Food Sport community as this is its second time hosting an online recipe contest. And for this challenge, competitors will be tasked to grill up their best recipe using La Lechonera's Natural Mojo Criollo.
The requirements to enter the contest are simple. Participants must infuse the Natural Mojo Criollo marinade into an original recipe creation using an outdoor standard grill or indoor griddle. All submissions will need to be uploaded with the complete recipe and photo to the contest link. WFC encourages competitors to submit multiple recipes to increase their chances of winning.
Competitors who signed up before the August 7 deadline will receive three free liters of Natural Mojo Criollo product to use in their entries. Anyone who is interested in competing but did not sign up before the deadline can still participate by purchasing Natural Mojo Criollo from your local store or ordering online, here.
The contest will be open from September 4-14 and offers two WFC 2021 Golden Tickets for the first and second place winners. The competition will also feature an optional People's Choice component giving participants an extra chance to qualify into WFC.
After submitting their entry through the official contest link, participants are then invited to post their recipe and photo to Instagram, tagging WFC and La Lechonera and using the hashtags provided in the official contest rules. The post with the most "likes" will be awarded a WFC 2021 Golden Ticket plus a basket of BBQ merchandise valued at $200, courtesy of La Lechonera.
The winners of this online qualifier will be announced on September 26-27 on the WFC Facebook page. Winners will qualify into the category that best fits their dish. For example, if a contestant makes a sandwich using the featured product, they will qualify for the 2021 World Sandwich Championship. Winners will receive instructions on how to register for the big dance in Dallas via email after the announcement.
Until then, stay up-to-date on all culinary competition news, by following the World Food Championships on Twitter (@WorldFoodChamp), Facebook and Instagram (@WorldFoodChampionships).
About World Food Championships
The World Food Championships (WFC) is the highest stakes food competition in the world. This multi-day, live event culinary competition showcases some of the world's best cooks who compete for food, fame and fortune in 10 categories (Bacon, Barbecue, Burger, Chef, Dessert, Recipe, Sandwich, Seafood, Soup and Steak). In 2019, more than 450 culinary teams from 11 countries and 42 American states competed in WFC's Main Event. In August, the 10 Category Champs faced-off in the $100,000 challenge that determined a new World Food Champion at The Final Table: Indianapolis.The 8th Annual World Food Champion will be revealed Oct. 3rd on the Cooking Channel.
« Back to News