WFC Releases 2020 Tournament Chart
Share:
Posted Jul 29, 2020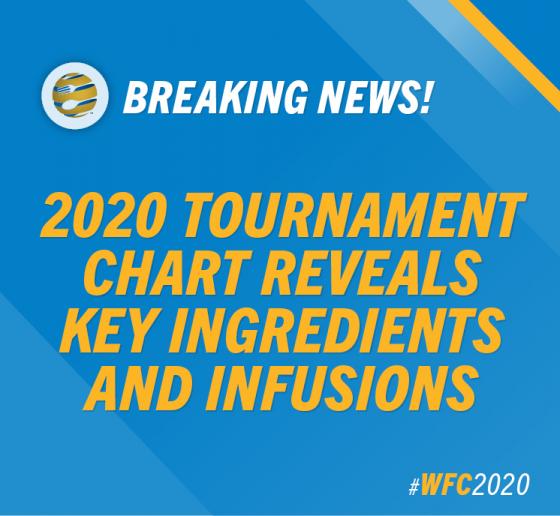 The moment Food Champs across the nation have been waiting for has finally arrived: the World Food Championships has just released its 2020 Main Event Tournament Chart. The chart is a quick snapshot of ingredient requirements throughout each round of competition at the 9th annual event scheduled for Nov 6-10th at the iconic Fair Park in Dallas, Texas.
"We are very excited about this year's Tournament Chart for WFC 2020," said Mike McCloud, President and CEO of WFC. "We have some incredible new builds and well known food brands integrated into this year's event, and we know that our cooks and chefs will be excited to take on the challenge."
The highly-anticipated event has already closed four categories — Recipe, Dessert, Seafood, Soup — which means registration is beginning to tighten up. To make the qualifying process easier during a challenging year with many events being cancelled, WFC released a special qualification policy earlier this year to allow any former WFC competitor or sous chef to be automatically qualified for the event.
The required products and ingredients behind the tournament's dishes have been revealed with an easy-reference infographic (see below). More info on each Infusion and individual product requirements will be released through social media updates, as well as the annual Competitor's Packet. That packet will be released by September 1.
Click here for a printable version of the 2020 Tournament Chart.
Stay up-to-date on all culinary competition news, by following the World Food Championships on Twitter (@WorldFoodChamp), Facebook and Instagram (@WorldFoodChampionships).
About World Food Championships
The World Food Championships (WFC) is the highest stakes food competition in the world. This multi-day, live event culinary competition showcases some of the world's best cooks who compete for food, fame and fortune in 10 categories (Bacon, Barbecue, Burger, Chef, Dessert, Recipe, Sandwich, Seafood, Soup and Steak). In 2019, more than 450 culinary teams from 11 countries and 42 American states competed in WFC's Main Event. The 10 Category Champs crowned will now face-off in the $100,000 challenge that will determine the overall World Food Champion at The Final Table: Indianapolis in August 2020.
« Back to News