WFC Partners with Company to Boost Safety Protocols At "Final Table: Indy"
Share:
Posted Jul 28, 2020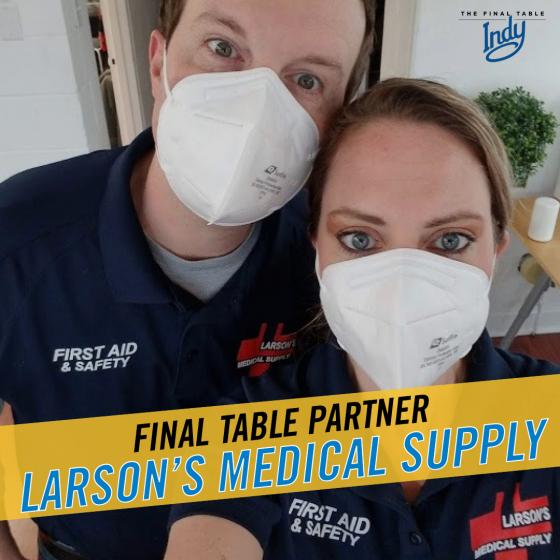 In preparation for the first televised food show during the Covid-19 pandemic, the World Food Championships (WFC) has partnered with Larson's Medical Supply as the official PPE provider for the "Final Table: Indy" to help ensure the health and safety of its competitors, guests, sponsors and staff this August.
Both the State of Indiana and Ivy Tech Culinary Center have mask requirements and virus-related protocol that all participants in the event will have to follow. Thanks to Larson's Medical Supply, all Final Table attendees will be supplied with 3-ply face masks and hand sanitizer each day of the event. Additionally, Larson's Medical will supply the event touchless thermometers to make sure that WFC's crescendo moment is safe and Covid-prepared.
Nicole Larson started her company in Saint Louis, MO by selling just a First Aid box, but that was quickly followed by defibrillators, eye wash stations and other equipment to keep people safe in many work environments. So when the Coronavirus began spreading globally, Nicole jumped into action, sparking the creation of a team that would establish one of the nation's first pipelines of high quality N95 masks and other Personal Protective Equipment. Together with her husband, Pete McAuliffe, Larson's Medical Supply and its international distributor arm LMS Enterprises Worldwide help ensure the health and safety of people everywhere in all types of work situations.
"We are thankful to have Larson's Medical Supply on site at our Final Table event in Indianapolis," commented Mike McCloud, President/CEO of WFC. "We have always taken the safety of our contestants and judges seriously, and this year, it's more paramount than ever. Larson's help will be very much appreciated and needed as we try to do something no other food TV show is willing to tackle."
To read more about Ivy Tech policies in place, click here: https://www.ivytech.edu/coronavirus.html#Facial%20Coverings%20Policy.
To read more about the State of Indiana's rules and regulations, click here: https://www.coronavirus.in.gov/
To learn more about "Final Table: Indy," visit https://finaltable.worldfoodchampionships.com/.
Stay up-to-date on all culinary competition news, by following the World Food Championships on Twitter (@WorldFoodChamp), Facebook and Instagram (@WorldFoodChampionships).
About World Food Championships
The World Food Championships (WFC) is the highest stakes food competition in the world. This multi-day, live event culinary competition showcases some of the world's best cooks who compete for food, fame and fortune in 10 categories (Bacon, Barbecue, Burger, Chef, Dessert, Recipe, Sandwich, Seafood, Soup and Steak). In 2019, more than 450 culinary teams from 11 countries and 42 American states competed in WFC's Main Event. The 10 Category Champs crowned will now face-off in the $100,000 challenge that will determine the overall World Food Champion at The Final Table: Indianapolis in August 2020.
« Back to News