WFC Introduces Qualifying Exemption for 2020 Main Event
Share:
Posted Jun 30, 2020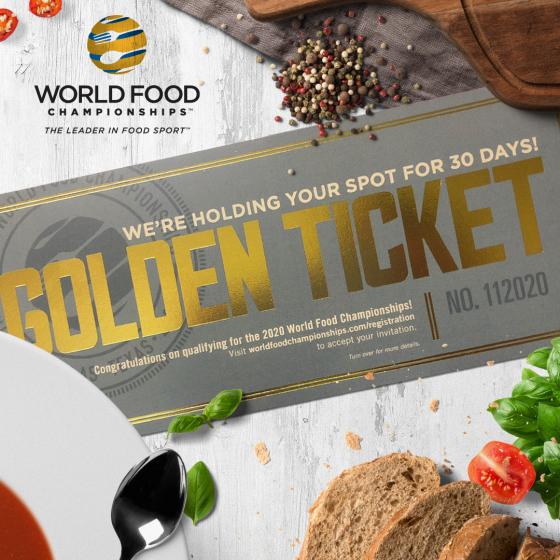 DALLAS, Texas– For the first time in its history, the World Food Championships (WFC) is implementing a new, qualifying exemption process for cooks and chefs who want to compete in the 9th Annual Main Event this November in Dallas.
The new process will allow anyone who has competed in a previous WFC to qualify directly into the 2020 Main Event. This differs from the usual, annual qualifying process that requires all cooks to have won a WFC qualifier event to be eligible to compete in the Main Event. The rule was implemented by officials this past week after surveying the number of qualifier events that have been postponed or canceled during the current cooking season.
"We realize that it's been hard for many cooks and chefs to get qualified this year due to Covid-19 ripple effects in the Food Sport arena," commented Mike McCloud, President and CEO of WFC. "So to help make the process easier, our ambassadors and I decided to lift the typical qualifying process and allow ANY team that has competed before to use that experience as their 2020 qualifier."
Teams wanting to participate in this one-year-only qualifying process will need to go to the competitor registration tab on the WFC website (or follow this link), choose the category in which you wish to compete, then simply choose the qualifying event "2020 Past Competitor Qualifier." Each team will still be required to pay a $300 registration and processing fee, but there's no limitation on what category a team can select as long as spots are still available.
"We have available spots in eight of our 10 categories, although some have more than others," McCloud stated. "The entire process will be based on a first-come, first-verified scenario. And for our state partners who have yet to conduct their qualifiers, we are still reserving their positions in the process."
The portal that will allow this unique policy to occur will be opened up to contestants on Saturday, July 4th and will remain open until all available spots are reserved.
"It's been a strange and unusual year for Food Sport," commented McCloud. "So as we prepare to ensure the safest and most exciting championship yet, we want to make sure that any chef or cook who has the desire to compete actually has a way to get qualified for the Ultimate Food Fight."
This year's event will be held at Fair Park in Dallas, with spacious inside and outside areas to ensure social distancing and a safe, clean environment. WFC will be providing hand sanitizer, face masks and other cleaning measures at no charge to contestants.
Stay up-to-date on all culinary competition news, by following the World Food Championships on Twitter (@WorldFoodChamp), Facebook and Instagram (@WorldFoodChampionships).
About World Food Championships
The World Food Championships (WFC) is the highest stakes food competition in the world. This multi-day, live event culinary competition showcases some of the world's best cooks who compete for food, fame and fortune in 10 categories (Bacon, Barbecue, Burger, Chef, Dessert, Recipe, Sandwich, Seafood, Soup and Steak). In 2019, more than 450 culinary teams from 11 countries and 42 American states competed in WFC's Main Event. The 10 Category Champs crowned will now face-off in the $100,000 challenge that will determine the overall World Food Champion at The Final Table: Indianapolis in August 2020.
« Back to News