Become A Food Judge From The Comfort Of Your Home
Share:
Posted Jun 8, 2020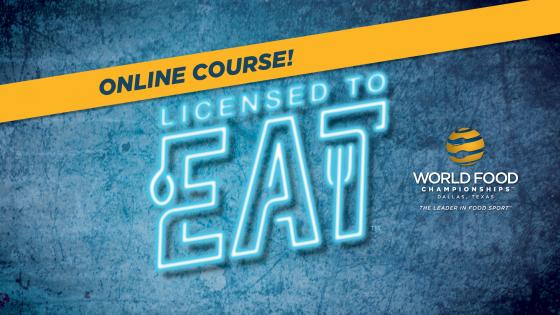 The World Food Championships (WFC) is known as a springboard for cooks and chefs to realize and cultivate their culinary dreams. But for judges, it's an opportunity to taste some of the world's best food, all while helping determine who will be the next World Food Champion.
WFC's "Licensed to E.A.T.™" judging classes have attracted more than 3,000 foodies from far and wide to earn certification –– spanning from California to Tanzania, Africa and everywhere in between. But now, the opportunity to become a judge is easier than ever with WFC's newest online course, wfcfoodjudge.com.
While it cannot exactly recreate the unique experience (and tastings) of face-to-face classes, the online course offers the same course material and information that will educate foodies on the ins and outs of judging a live cooking competition.
The online course provides a short, six-part video series, walking students through each step of the judging process. At the end of the instruction, participants will be required to take a ten question quiz and score 90% or above to achieve certification. What if participants fall short of that? No worries, the quiz can be re-taken to correct questions you may have gotten wrong. Once the user passes the quiz, he/she will be prompted to complete an information form that collects mailing information that is needed to verify certification and receive a custom printed WFC Gold Card.
WFC's certified judges can use their skill set at any E.A.T.™ sanctioned event in the world, including the Main Event in Dallas, Texas. To sign up for judging at the 2020 event, visit the Judges Registration page on the WFC site. Judging assignments at the Main Event are "first come, first reserved" and will fill up quickly. So, don't wait!
Additionally, judges will be able to share their good news on Facebook by adding WFC's new "I'll Be The Judge Of That" Facebook Frame to their profile picture.
Stay up-to-date on all culinary competition news, by following the World Food Championships on Twitter (@WorldFoodChamp), Facebook and Instagram (@WorldFoodChampionships)
About World Food Championships
The World Food Championships (WFC) is the highest stakes food competition in the world. This multi-day, live event culinary competition showcases some of the world's best cooks who compete for food, fame and fortune in 10 categories (Bacon, Barbecue, Burger, Chef, Dessert, Recipe, Sandwich, Seafood, Soup and Steak). In 2019, more than 450 culinary teams from 11 countries and 42 American states competed in WFC's Main Event. The 10 Category Champs crowned will now face-off in the $100,000 challenge that will determine the overall World Food Champion at The Final Table: Indianapolis in August 2020.
« Back to News