WFC Creates "Mojo" Online Recipe Contest With La Lechonera
Share:
Posted Apr 24, 2020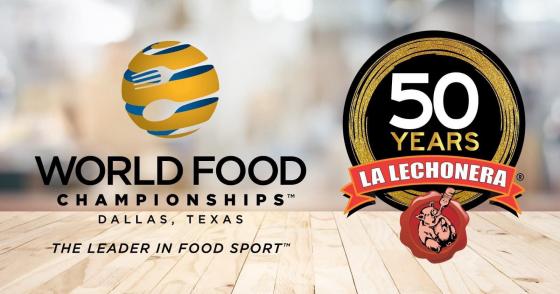 The world's largest Food Sport event, World Food Championships (WFC), has recently produced a series of online recipe contests that qualifies aspiring competitors into its 9th Annual Ultimate Food Fight. To add even more flavor to the series, WFC has partnered with La Lechonera Products for a virtual qualifier that will inspire chefs, home cooks and even pro teams to get creative with its Mojo Criollo Spanish Marinating Sauce at no cost to contest participants.
La Lechonera derives its name from a popular 1960s Miami restaurant chain known for its delicious food. When customers began to ask for samples of the marinade used to season the meats, the owners decided to take it to the masses, therefore, becoming the first company to bottle the original "Mojo Criollo" in the US. The third generation, family-owned business has since added Naranja Agria, Tropical Lemon and an All-Natural Mojo Criollo to their product line.
For this online recipe contest, participants will be challenged to infuse La Lechonera's "Mojo Criollo" Spanish Marinating Sauce into any recipe dish. To assist with obtaining the product, La Lechonera will be sending a free gallon of product to each Food Champ who wishes to participate. All participants must complete a form (here) by the deadline of May 3rd at 11:59pm CDT in order to receive the product for this contest.
The contest is open from May 15-25 and offers two WFC 2020 Golden Tickets to the first and second place winners. All participants will be required to submit their "Mojo Criollo" infused recipe and photo through the contest link (here).
To double their chances of qualifying into WFC, a People's Choice component has been added to the mix. After submitting their recipe through the contest link, participants then have the option to upload their recipe and photo onto their Instagram account using the hashtag #WFCCooksMojo. The participant who receives the most "likes" will win a qualification-only Golden Ticket.
Winners of the contest will be revealed on WFC's official Facebook page on June 3rd and will qualify into the category that best fits their dish. For example, if a contestant makes a pork sandwich using the sponsored product, they will qualify for the 2020 World Sandwich Championship. Winners will receive instructions on how to register for the big dance in Dallas via email after the announcement.
Official contest rules are available (here).
To stay up-to-date on all culinary competition news, simply follow the World Food Championships on Twitter (@WorldFoodChamp), Facebook and Instagram (@WorldFoodChampionships).
About the World Food Championships
The World Food Championships (WFC) is the highest stakes food competition in the world. This multi-day, live event culinary competition showcases some of the world's best cooks who compete for food, fame and fortune in 10 categories (Bacon, Barbecue, Burger, Chef, Dessert, Recipe, Sandwich, Seafood, Soup and Steak). In 2019, more than 450 culinary teams from 11 countries and 42 American states competed in WFC's Main Event. The 10 Category Champs crowned will now face-off in the $100,000 challenge that will determine the overall World Food Champion at The Final Table: Indianapolis in August 2020.
« Back to News