Biscuits and Jampionship Is Back In 2020
Share:
Posted Apr 24, 2020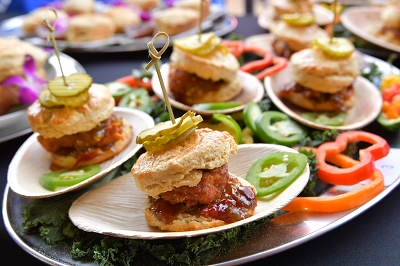 At the 2019 World Food Championships (WFC), The Jelly Queens produced a unique ancillary competition called Biscuits and Jampionship, challenging competitors to make an original flavor of jelly. Now, THE Jelly Queen herself, Donna Collins, is bringing back this sweet gig with some prize money.
Honey Butter Chicken Biscuits are a specialty in Texas. Round 1 of this contest challenges chefs and home cooks around the country to create their very own interpretation of this sweet and savory treat and submit it via email. Along with emailing the biscuit recipe, each contestant must mail two jars of an original jam recipe to The Jelly Queens headquarters (4318 West Lovers Lane, Dallas, TX) to be judged.
But wait… there is a twist. The recipesmust include the following ingredients:
Biscuit – Jovial Flour or King Arthur Flour and Challenge Butter
Fried Chicken – Jelly Queen Spices
Honey Butter – Bonton Farms Honey
Jam – Pomona's Universal Pectin and shipped in your choice of Fillmore Container Jars
All entries must be submitted by June 16th. The top 20 winners will be announced on June 30th and will move on to the next round.
In round two, similar to round 1, contestants will be required to submit an original pickle recipe via email by August 17th. In addition, two jars of the pickles should be sent to The Jelly Queens address in Fillmore Container Jars. The top ten recipes will be announced on September 2nd and will move on to compete in the final round at Fair Park in Dallas.
The ten talented cooks will go head to head on Saturday, November 7th for a sweet cash prize where the winner will take home a Golden Ticket to the 2021 WFC event. The top three scoring dishes will receive $2,000, $1,000 and $500 respectively. Note: a competitor in the Biscuits and Jampionship does not have to be registered for the World Food Championships.
Additionally, the first-place winner will receive a "Jammin' With The Jelly Queens," weekend to have their chance to cook in The Jelly Queens FDA approved kitchen. The lucky winner will get to cook and jar one case of their own jam and one case of their own pickles at no expense. The winner will receive a complimentary two-night Airbnb stay along with daily family-style meals made fresh from The Jelly House.
To read the official rules for the 2020 Biscuits and Jampionship, click here.
To stay up-to-date on all Food Sport news, follow the World Food Championships on Twitter (@WorldFoodChamp), Facebook and Instagram (@WorldFoodChampionships).
About the World Food Championships
The World Food Championships (WFC) is the highest stakes food competition in the world. This multi-day, live event culinary competition showcases some of the world's best cooks who compete for food, fame and fortune in 10 categories (Bacon, Barbecue, Burger, Chef, Dessert, Recipe, Sandwich, Seafood, Soup and Steak). In 2019, more than 450 culinary teams from 11 countries and 42 American states competed in WFC's Main Event. The 10 Category Champs crowned will now face-off in the $100,000 challenge that will determine the overall World Food Champion at The Final Table: Indianapolis in August 2020.
« Back to News