Registration Opens For WFC 2020 Judges and Volunteers
Share:
Posted Mar 30, 2020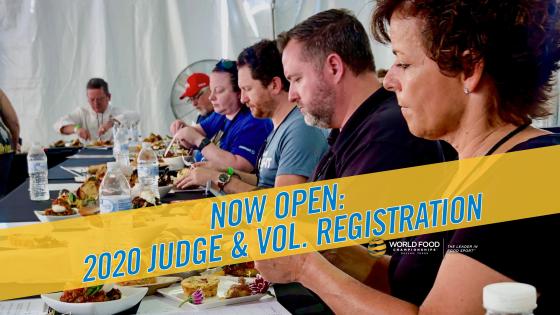 The leader in Food Sport, World Food Championships (WFC), just opened its 2020 judge and volunteer registration, allowing foodies from around the globe a chance to sink their teeth (or lend a hand) at its Main Event in Dallas, Texas from Nov. 6-8. While competitors are fighting for a chance at the event's $350,000 prize purse, WFC's judges and volunteers will be working hard behind the scenes to help keep this larger than life food event moving. With thousands of qualified judges and dedicated Food Sport fans, WFC is eager to welcome new and returning foodies to the 2020 judge and volunteer teams!
With major cash on the line, WFC requires all of its judges to follow and become certified in the event's judging process, known as the E.A.T.™ methodology. This is WFC's own proprietary scoring system and process that allows all of its competition categories to be judged on the same criteria, in a consistent manner.
WFC hosts several "Licensed to E.A.T.™" judging certification courses around the country. After course completion, every judge is officially certified and sent a beautiful, custom Gold Card with their unique judge ID number. While some courses will be postponed due to the developments with the COVID-19 virus, WFC hopes to find dates and locations to reschedule every class if possible. Click here to see a list of "Licensed to E.A.T.™" events.
If you don't see an E.A.T.™ certification class near you, WFC will host a class at Centennial Hall, Fair Park in Dallas, Texas, on Nov. 5 (before its five-day competition week kicks off). Anyone who takes this class will be guaranteed a judging spot for the Ultimate Food Fight.
While face-to-face judging classes are recommended so that guests can test out their new judging skills in real-time WFC plans on acquiring an online solution in the coming weeks. Stay tuned for a Licensed to E.A.T.™ online opportunities for those who aren't able to attend a class.
If you're already licensed and trained, grab your judge's card or ID number and sign up today at this link.
Volunteers are not required to have any certifications. Opportunities range from a variety of options such as serving samples, set up and break down of programming, asking attendees to fill out a survey, giving an extra hand to staff, assisting in the judging tent, and so much more.
WFC encourages anyone with an interest in competition cooking or just a regular foodie to sign up for a "behind the scenes," look at the Ultimate Food Fight. Each volunteer will receive a souvenir t-shirt, free food during shift breaks and two free passes to the event on a day they are not volunteering. Click here to become a WFC volunteer.
"Our event wouldn't be possible without hundreds of dedicated volunteers and judges," said Mike McCloud, President and CEO of WFC. "When you think about 8,000 plus dishes moving through the system, having to be photographed, judged and scored — it's no wonder that our event requires tons of support. Thankfully, for those judges and volunteers who opt into our opportunities, there's plenty of sweet treats and great eats."
To stay up-to-date on all culinary competition news, simply follow the World Food Championships on Twitter (@WorldFoodChamp), Facebook and Instagram (@WorldFoodChampionships).
About the World Food Championships
The World Food Championships (WFC) is the highest stakes food competition in the world. This multi-day, live event culinary competition showcases some of the world's best cooks who compete for food, fame and fortune in 10 categories (Bacon, Barbecue, Burger, Chef, Dessert, Recipe, Sandwich, Seafood, Soup and Steak). In 2019, more than 450 culinary teams from 11 countries and 42 American states competed in WFC's Main Event. The 10 Category Champs crowned will now face-off in the $100,000 challenge that will determine the overall World Food Champion at The Final Table: Indianapolis in August 2020.
« Back to News