WFC Acquires ICS To Expand Its Food Sport Platform
Share:
Posted Mar 26, 2020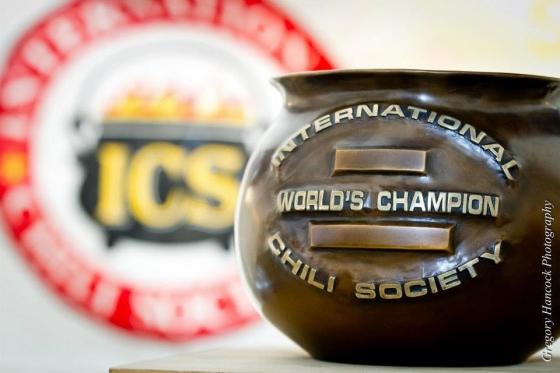 The World Food Championships (WFC) added spice to the Food Sport industry today as it announced its recent acquisition of the International Chili Society (ICS).
Now in its 54th year with a network of 100+ sanctioned events, ICS has paved the ultimate way for competitive Chili Heads throughout the nation to qualify into the World Championship Chili Cookoff (WCCC). Founded by the legendary Caroll Shelby, the society has raised over $100 million for charities and delighted chili fans all across America with its popular people's choice taste-offs.
WFC acquired the rights to ICS from Scott Toland, who has been operating the organization since the retirement of Carol and Dave Hancock in 2017. Toland, who has been a big advocate for Chili nation, recently decided to work with and ultimately sell ICS to Mike McCloud, President and CEO of WFC.
"ICS has been near and dear to me for many years," commented McCloud, "In fact, I had the pleasure of working with Carol and Dave Hancock for several years as I started my Food Sport endeavors. The passion they demonstrated, as well as the cooks they championed, was one of the reasons I delved so deeply into this arena. To ultimately be in a position to carry on the great traditions that they and Mr. Shelby believed in so dearly — is simply an honor and privilege to me."
McCloud also stated that he was impressed with what Toland and his team have been able to do with ICS in a short amount of time. As a result, all aspects of ICS will continue to operate as normal throughout the balance of the year, giving McCloud and WFC a chance to "really roll up our sleeves and get reacquainted" with how the leader in Chili operates on all fronts.
One of the only things that might change is how, when or where the 2020 WCCC occurs. In the coming weeks, McCloud will be working with the ICS Advisory Council to assess the best venue and timing for the 2020 WCCC, which could possibly be incorporated into WFC or still stand alone as its own event, but probably in the Spring of 2021. Numerous developments in the event industry, including the recent cancellations of many major events due to the Coronavirus pandemic, is requiring a lot of promoters to evaluate such plans for 2020.
"It's very possible that we will move or modify this year's 2020 WCCC, just to be fully prepared for our necessary transition efforts and to make sure that the event has a successful reboot for all constituents, from Chili Heads and sponsors to consumers," McCloud noted. "We will be assessing and announcing our plans as soon as possible. But one thing's for sure, every winner from any sanctioned ICS contest in 2020 will be given their chance at the ultimate grand prize they seek from the WCCC."
McCloud also pointed out that WFC, his flagship event that occurs this November in Dallas, once held a chili category championship but recently announced that it would be switching that category to Soup in 2020. When asked if this had anything to do with the recent ICS development, he added, "Somewhat. WCCC has always been a chili leader in my mind. So we wanted WFC to be respectful of that and quit competing with ICS on that front.
"I personally think this is a win-win for ICS champions. We will probably now allow any ICS champion a priority choice to enter both WFC's Soup category and the next ICS championship. So in essence, Chili Heads will get two chances at a big payday now."
All existing memberships, sanctioned contests, kit deployment, web services and sponsor commitments will continue without interruption, thanks to the agreement between McCloud and Toland.
In the meantime, any and all questions about the transition can be sent to Vickie Marnick at Vmarnick@icschili.com. Marnick will continue to be the key manager of ICS operations on behalf of WFC, said McCloud.
To stay up-to-date on all culinary competition news, simply follow the World Food Championships on Twitter (@WorldFoodChamp), Facebook and Instagram (@WorldFoodChampionships).
About the World Food Championships
The World Food Championships (WFC) is the highest stakes food competition in the world. This multi-day, live event culinary competition showcases some of the world's best cooks who compete for food, fame and fortune in 10 categories (Bacon, Barbecue, Burger, Chef, Dessert, Recipe, Sandwich, Seafood, Soup and Steak). In 2019, more than 450 culinary teams from 11 countries and 42 American states competed in WFC's Main Event. The 10 Category Champs crowned will now face-off in the $100,000 challenge that will determine the overall World Food Champion at The Final Table: Indianapolis in August 2020.
About the International Chili Society
The International Chili Society (ICS) has been bringing foodies together over America's greatest culinary creation –– chili –– since 1967. ICS sanctions hundreds of chili cook-offs nationwide in efforts to raise money for charities and nonprofits, nearly donating $100 million to date. The organization also crowns a World Champion annually through its World Championship Chili Cookoff (WCCC).
« Back to News