WFC Adds More State Partner Qualifiers for 2020
Share:
Posted Feb 26, 2020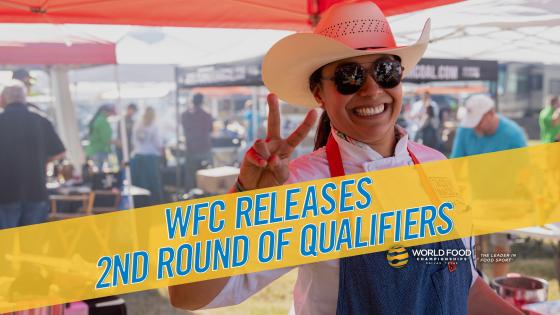 As Food Sport season gets underway, WFC has been working hard to develop strategic alliances and qualifiers to provide more ways to qualify into the 2020 championships, which will be held Nov 6-10th in Dallas. With more than $350,000 on the line and a new category slated for this year's event, there's definitely a Texas-sized amount of buzz occurring throughout the nation for Food Champs looking to claim the ultimate prize in competition cooking!
One of those key ways to qualify will be through WFC's state partners. Now with almost 10 states participating in WFC's partnership program, the road to Dallas is becoming more defined and accessible than ever before.
As in years past, each partner's events will serve as the exclusive gateway for chefs and home cooks from that respective state or region to qualify for the Main Event in November, which will be held indoors for the first time at Fair Park. From chef throwdowns to foodie fest cookoffs, each state has designed its qualifiers to complement the area's unique culinary scene.
"We are looking forward to expanding our Food Sport footprint across more states in 2020," commented Mike McCloud, President and CEO of WFC. "We've seen great creativity and success from our state partners and we can't wait to see what sensational events are in store for this year. Our partnerships allow states the ability to enhance its food scene while at the same time elevating the talent of their local passionate cooks. It's really a win-win for everyone involved."
For cooks not able to attend actual events, McCloud pointed out that three gateways still exist into WFC: the Taste of America online recipe contest, which kicks off March 1, having placed in the top ten of your category at WFC 2019 and winning a sanctioned barbecue, chili or steak contest through WFC-affiliated sanctioning bodies.
WFC 2020 State Partners:
More qualifying events will be added throughout the year, as talks continue with state organizations in Mississippi, Illinois, California, Idaho, Washington, North Carolina and Georgia. Meanwhile, contestants can check the Official Qualifiers page to view the full list of ways to win a Golden Ticket into WFC 2020.
If your state is interested in becoming an Official WFC State Partner, email julieb@mmacreative.com for more information.
Follow the World Food Championships on Twitter (@WorldFoodChamp), Facebook and Instagram (@WorldFoodChampionships) for more Food Sport updates.
About the World Food Championships
The World Food Championships (WFC) is the highest stakes food competition in the world. This multiday, live event culinary competition showcases some of the world's best cooks who compete for food, fame and fortune in 10 categories (Bacon, Barbecue, Burger, Chef, Dessert, Recipe, Sandwich, Seafood, Soup and Steak). In 2019, more than 450 culinary teams from 11 countries and 42 American states competed in WFC's Main Event. The 10 Category Champs crowned will now face-off in the $100,000 challenge that will determine the overall World Food Champion at The Final Table: Indianapolis in May 2020.
« Back to News