How To Qualify for WFC from the Comfort of Your Home
Share:
Posted Feb 26, 2020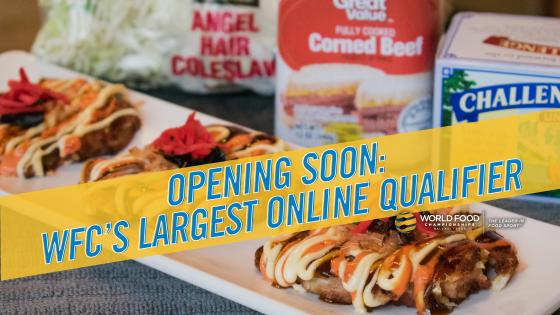 Chefs and home cooks from around the world are trying to snag the hottest ticket in Food Sport— a Golden Ticket to compete at the 9th Annual World Food Championships (WFC) in Dallas, Texas. Good news for those vying for a taste of the food fighting action: WFC's most popular online recipe contest, the Taste of America Challenge (TOA), is back for the fifth year to qualify up to 250 contestants for the Main Event at Fair Park in November.
"We are thrilled to once again be hosting our nationwide recipe contest," said Mike McCloud, CEO and President of WFC. "We know that Food Champs from all over the country are looking for ways to win their way into our competition. At the same, we are aware that sometimes schedules and finances do not permit these cooks the ability to travel and compete at one of our qualifiers. Taste of America offers the perfect solution by allowing WFC hopefuls a chance to win their 2020 Golden Ticket from the comfort of their home."
Throughout March, cooks from coast to coast are tasked with creating innovative, eye-popping recipes that utilize Food Sport's most popular brands and products for a chance to win a coveted Golden Ticket into WFC 2020, where over $350,000 of cash and prizes are up for grabs. Contestants will be able to choose from a variety of ingredients to incorporate into their entry dish.
Here's a quick rundown of the 2020 TOA Brands:
The five golden tickets will go to the dishes that are best scored by a panel of hand-picked judges based on WFC's E.A.T.™ Methodology. While judges will not be tasting the entry dishes, the veteran judges will be able to score a dish on perceived taste after studying the recipe and submitted description. WFC recommends describing prominent flavors and accents in the recipe description to help with establishing perceived taste scores.
The first-place winner from each state will not only receive qualification for the 2020 event but will also be awarded a waived entry fee into the tournament. Second and fifth place winners will receive a Golden Ticket to qualify for the event but will be responsible for their registration fee.
In addition, TOA will offer a unique People's Choice component for an extra opportunity to win. This bonus contest allows the entries another shot at winning a 2020 Golden Ticket via Instagram. Contestants who choose to participate in the People's Choice have the chance to win extra Food Sport prizes, including two VIP Day passes to WFC 2020 or an exclusive foodie prize pack.
This online qualifier will begin accepting recipe submissions from March 1 - 31. Click here to enter and learn more about its rules and regulations.
Stay up-to-date on all Food Sport news, by following the World Food Championships on Twitter (@WorldFoodChamp), Facebook and Instagram (@WorldFoodChampionships).
About the World Food Championships
The World Food Championships (WFC) is the highest stakes food competition in the world. This multi-day, live event culinary competition showcases some of the world's best cooks who compete for food, fame and fortune in 10 categories (Bacon, Barbecue, Burger, Chef, Dessert, Recipe, Sandwich, Seafood, Soup and Steak). In 2019, more than 450 culinary teams from 11 countries and 42 American states competed in WFC's Main Event. The 10 Category Champs crowned will now face-off in the $100,000 challenge that will determine the overall World Food Champion at The Final Table: Indianapolis in May 2020.
« Back to News