Seinfeld's Soup Nazi Joins the Ultimate Food Fight
Share:
Posted Feb 6, 2020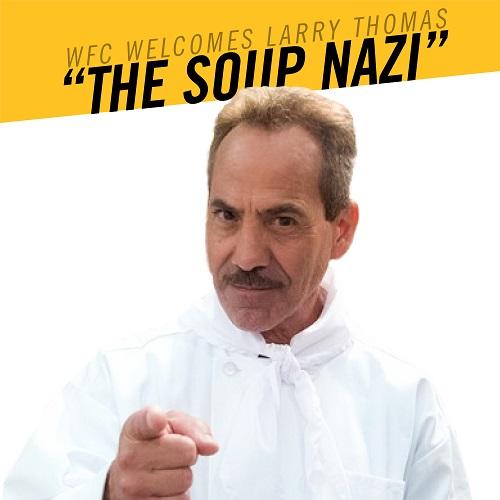 The newest category of food at The World Food Championships is going to generate some fanfare in November as The Soup Nazi — an Emmy-nominated sitcom star from Seinfeld — will be joining Cheferees and Food Champs to kick things off.
Larry Thomas, the man who made "No Soup For You!" a famous TV catchphrase, will make his Food Sport debut at the cook's meeting for the Soup Championship, which was just added by WFC for its Ninth Annual Main Event. And then, during the Top 10 awards ceremony, he'll be the person who probably coins a new phrase — "no more tournament for you" — as all the contestants gather to find out who is advancing in the tournament.
Thomas has been an actor for 35 years and is an industry veteran appearing in dozens of films, television shows and hundreds of theater performances. According to his website, Thomas' most recent projects include 108 Stitches, a baseball film with Bruce Davison, The Tesla Effect, A Tex Murphy Adventure (a live-action video game) and roles on Arrested Development, Hot Properties, Threshold, Scrubs and more.
"We are thrilled to have Larry Thomas bring a whole new perspective of fun to our Soup championship," said Mike McCloud, CEO and President of WFC. "We are incorporating more unique attractions and celebrity features at this year's event than we ever have before. We know food fans and competitors will love having him be a part of Food Sport."
Don't miss your chance to see the Soup Nazi in person at this year's WFC! Want to be the first to know when tickets are available? Click here to sign up for ticket alerts.
More announcements about WFC 2020 will be revealed throughout the coming months. In the meantime, follow the World Food Championships on Twitter (@WorldFoodChamp), Facebook and Instagram (@WorldFoodChampionships) for more Food Sport updates.
About the World Food Championships
The World Food Championships (WFC) is the highest stakes food competition in the world. This multiday, live-event culinary competition showcases some of the world's best cooking masters competing for food, fame and fortune in 10 categories. In 2019, more than 450 culinary teams from 11 countries and 42 American states competed in WFC's Main Event. The 10 Category champs crowned will now face-off in the $100,000 challenge that will determine the overall World Food Champion at The Final Table: Indianapolis in May 2020.
« Back to News