WFC Announces "Licensed to E.A.T™" Classes for 2020
Share:
Posted Jan 15, 2020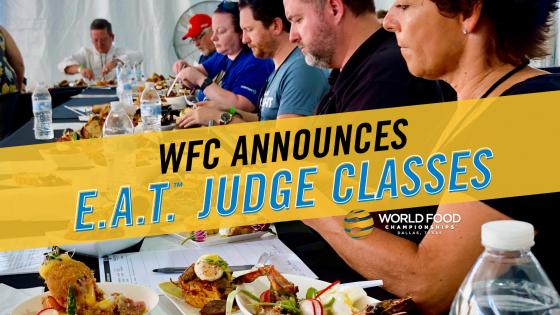 The World Food Championships (WFC) is known as the leading platform for cooks and chefs to realize their culinary dreams. But for foodies, it's a sweet smorgasbord of eating pleasure that has created a growing number of judging requests.In fact, since the competition's inception in 2012, WFC's "Licensed to E.A.T.™" judging classes have attracted foodies from far and wide to earn certification –– spanning from California to Tanzania, Africa and everywhere in between. Now, as WFC works to increase that number, the organization is releasing its first stops for its 2020 certification classes!
WFC is tasked annually with judging thousands of the world's best culinary dishes at its Main Event held in Dallas, Texas. To facilitate this edible endeavor, the organization developed its own unique food judging methodology where certified judges are taught to score based on a dish's Execution, Appearance and Taste.
Food fans interested in judging culinary events or individuals simply looking to learn more about what makes a particular dish superior will love WFC's "Licensed To E.A.T.™" course.
For WFC competitors looking for a "leg up" on the competition, the "Licensed To E.A.T.™" course can be a great tool in gaining inside knowledge on how dishes will be judged at the championships in November.
"Our unique judging system and silver platter presentations are differentiators that help us stand out from all other cooking competitions," said Mike McCloud, President and CEO of WFC. "Creating an even playing field for competitors is crucial to our event, and properly trained judges play a very important role in that objective. Our judging classes are a great way to get involved in Food Sport despite your culinary experience or background."
More details on the classes listed below will be available in the coming weeks on WFC's "Become A Judge" page. Until then, mark your calendars with the event nearest you! If you would like to be notified when a "Licensed To E.A.T.™" class is added, fill out this form. click here.
First Round of WFC's 2020 "Licensed To E.A.T.™" Classes
February - Opp, AL
March - Phoenix, AZ
March - Fairhope, AL
May - Tempe, AZ
May - Dallas, TX
June - Houston, TX
TBD - St Louis, MO
TBD - Springfield, MO
November - Dallas, TX
As a reminder, the X-factor (known as E.A.T.-X) will be a new judging component that will be implemented in 2020 by WFC's Ambassador Council. This will not affect any current certified judges nor any upcoming "Licensed to E.A.T.™" courses.
As stated in the WFC Official Rules, "the X-factor will be scored by a panel of WFC Ambassadors who will review and score Top Ten Dishes to determine X-Factor bonus points, which will range from zero to three."
The introduction to E.A.T.-X is explained in WFC's Official Rules. More details will be released in the coming weeks, in the meantime, follow the World Food Championships on Twitter (@WorldFoodChamp), Facebook and Instagram (@WorldFoodChampionships) for more Food Sport updates.
About the World Food Championships
The World Food Championships (WFC) is the highest stakes food competition in the world. This multi-day, live-event culinary competition showcases some of the world's best cooking masters competing for food, fame and fortune in ten categories. In 2019, more than 450 culinary teams from 11 countries and 42 American states competed in WFC's Main Event. The Ten Category champs crowned will now face-off in the $100,000 challenge that will determine the overall World Food Champion at The Final Table: Indianapolis in May 2020.
« Back to News